Graphite Sleeping Bag
Jump to navigation
Jump to search

The Graphite Sleeping Bag also known as the 'Grey Sleeping Bag' is a rare which was uploaded with various other V7 Rares - including a whole range of Sleeping Bags. It was released onto 6 hotels in total including Habbo.com before the Merge via competitions and the Catalogue. It is available in the English speaking community due to it being sold in the Catalogue on Habbo.co.uk during November 2006 and due to it being handed out as a competition prize on Habbo.com.sg in May 2008. It was also spotted in a room on Habbo.com and Habbo.fi, but never released.
Sightings/Releases
The Graphite Sleeping Bag has been spotted on 8 hotels in total, but only released on 6. Here is a complete list of all sightings/releases:
Badge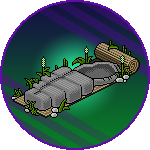 Every user who purchased the Graphite Sleeping Bag as Classical Rare after 2010 also received a badge.