Dionysus
Jump to navigation
Jump to search
Dionysus
Note: This account was not transferred during the 2010 merge or was deleted during an account clearout and is now inactive.

Joined Habbo
2001
Hotel
Habbo.com
Originally from
Habbo.co.uk (?)
Also known as
Ellis_Zero
oneday
Kitano
The.4th.Habbo
Sisyphus
King_Mob
Former Habbo Staff
Role(s)
Assist. Community Manager
Assist. Hotel Manager
Senior Site Production
Hotel Manager
Dionysus, also known as Mark Bamford, is an older Habbo Staff member from Habbo Hotel UK, interim Hotel Manager and later international staff at Sulake HQ. He was one of the original players, Hobbas and long-time staff members since 2001. While working with Habbo, Dionysus also worked on Sulake's mobile game projects, such as Lost Monkey, Niko and Bobba Bar and in-world action and social games, such as Habbo Pix, SnowStorm, Fast Food and Habbo Speedway.
Habbo Roles
| Role | Start Date | End Date |
| --- | --- | --- |
| Senior Game Copywriter | Feb 2011 | Dec 2012 |
| Regional Content & Community Lead | July 2010 | Jan 2011 |
| Site Producer | June 2004 | June 2005 |
| Community Manager | June 2004 | June 2005 |
| Customer Service | Oct 2001 | June 2004 |
Habbo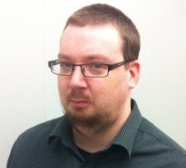 Dionysus joined Habbo as "Kitano" on the Finnish hotel as user #4. He later joined the UK hotel as Dionysus in the same year. It is a little known fact that Dionysus also served as a Hobba under the name Ellis_Zero.
He began as a part-time member of customer service in October 2001 whilst studying for his Philosophy degree. He eventually became Community Manager and later Assistant Hotel Manager, before relocating to Helsinki to join Sulake HQ as lead site producer, responsible for organising, designing and implementing global campaigns.
Unlike many past hotel Staff, Dionysus retains an (inactive) account on the post-merge Habbo, "The.4th.Habbo".
Dionysus was interim Hotel Manager after Callies departure in 2005, before Lost_Witness took up the position officially.[1]
Soapbox
Dionysus ran Habbos first user to staff feedback session, an early and popular hotel feature that lasted for many years, the Soapbox. (A 'soapbox' is in reference to the preachers and political commentators of Speakers Corner, Hyde Park, London - where orators have addressed the passing masses atop old soap container boxes for centuries. Habbo also bares reference to this British cultural tradition, through the naming of a the classic rare item, the Speaker's Corner.) Here is the (then) revised staff introduction to the session:

"Soapbox is your chance to have your say on the issues affecting the Habbo community. You get to queue up (always fun!) and then speak to the Habbo masses for a few minutes. You can talk about (almost) anything Habbo related, just as long as you're articulate and interesting (not whiny, sweary or ALL CAPSY...). After speaking, the other members of Soapbox can comment, ask questions, etc. You can talk about what new features you want to see, what problems you see in current features, and, most importantly perhaps, what new initiatives can be done to make the community more fun and exciting. Cause at the end of the day, it's your Hotel, we just take out the trash, mop the floors and (occasionally) unblock the toilets. In theory at least."

In 2011, he re-emerged on a staff team alongside Puffin and Neja, under his old pseudonym, Kitano - which was especially re-registered for his new role. He was primarily involved in community engagement, re-assuming his role as leader of the Soapbox sessions, wherein users could give in-client feedback live to him over chat in the respective Soapbox group room. This was a larger, version nine room that allowed more users to contribute than had been doable in years previous. His last session is thought to have been an 'Xmas Soapbox Special' - held shortly before his departure from Sulake.[2] This new Soapbox allowed Habbo users to suggest ideas a few times a week, which would then be taken to the developers by Kitano.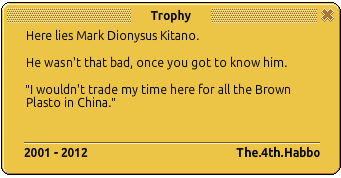 Dionysus left Habbo officially in December 2012, after sweeping staff reductions following the reforms by of Paul LaFontaine[3]. In his only open room on this account, he has a bot version of himself present 'Holo-Mark' and the floor is covered in Tatami rugs, a furni item he was known to like. In this room is a unique trophy, one that shows a ratio date and serves as a mark of his time on the hotel, made after his firing in December of 2012.[4]
Creator of Behind the Pixels, later the Behind the Pixels Blog. A newsletter detailing advancements and new features in Habbo.
Ran the Soapbox, a weekly user feedback campaign on the UK hotel, holding room meetings, subject of many fan rooms.
Gallery
References