Past Habbo Sponsors
Jump to navigation
Jump to search
Over the years Habbo has partnered with various sponsors to enable campaigns to be held on site. The sponsorships began in 2002 with Sunny Delight. Sponsor campaigns can be tied to just one regional hotel or reach internationally, especially after the merge. Most sponsor campaigns also introduce new furniture into the hotel, either sold or won in competitions. Many of these lose their branding after the affiliation has closed, as in the case of the Idea Agency range.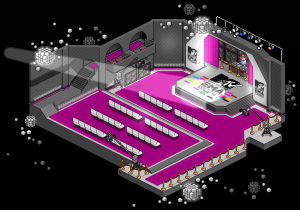 Sponsor campaigns offer coincide with a new public room or a re-branded existing one. This included Buzz and MTV campaigns. Due to the popularity of some Public Rooms designed and specialised for the campaigns some were kept like the MTV Studios that was later turned into the TV Studio room but branding for MTV still remained.
Sponsorship has declined in recent years, though prepaid cards were sold in retail shops in the UK such as WHSmith, Game and Tesco; all of these since have pulled out of the sponsorship and no longer affiliate with Habbo after the global mute.
In recent years, Habbo has featured in-client mini-games from various developers, this is a growing diversification of the hotel client since after the merge, more companies are expected to join this wide affiliation.
2002
Sunny Delight
The campaign was to promote new flavours of the Sunny Delight drink. Sunny D and Habbo partnered up and held a poll on the former HabboHotel.com which was also known as the UK Hotel back then. The players had to vote which flavour was their favourite. During this time Sunny D also had tv adverts running telling viewers to go sign up to the hotel, go online and vote. In addition, a Public Room was opened and named the 'Sunny Delight Pool' which was the Lido Pool with a few additions to the room. The Lido Pool is one of the only Public Rooms that still exist, beforehand players could interchange between 2 sides of the pool but due to recent updates they have been renamed Public Spaces and the Lido pool was split into 2 and renamed Lido 1 and Lido 2.
2003
BT Broadband
Habbo signed a deal with BT that included marking the telephone company's broadband products as it developed them as its own service. BT listed Habbo as a partner on the btbroadbandstart site. For the campaign, players had to switch their internet service provider to BT and if they did they would receive a 1 years subscription to Habbo Club but players had to purchase the deal on a special page to receive their subscription.
2004
None
2005
Shark Tale
The sponsorship was mainly to promote the DVD when it was released, so Habbo teamed up with Shark Tale and the main event was called 'The Cod-father' a witty play on words of the aquatic genre and the film 'The Godfather.' For this event players were asked to form a mafia, they would then take part in KickWars against another group until the champion mafia was eventuall crowned. Other events such as Poision Floors (now known as Melting Carpets/Mats or Don't Touch The Floor) and Fridge Races that's still known on the hotel today. In addition to this partnership was London Scuba, a company that specialised in scube diving - one Habbo player won themsevles a trip with the company; the first holiday players could win with a campaign on Habbo.
Eyetoy Antigrav
Likewise, sponsorships were usually to promote new products and this time the newest Eyetoy was available. For this Habbo decided to run various games and competitions alongside quests; the main one was a quest where Compound, a character in the game went missing and the prize was Furni. Another competition allowed players to win the game and they had to get a picture of their Habbo and one of the VIP chatacters from the game to be in with the chance of winning the prizes.
Always
This was one of the largest and longest partnerships Habbo took part in. To take part players had to work in a Habbo salon and then get voted by other plays. Afterwards, the top 10 salon workers would forward onto round 2 whereby every few days there would be a mini task and the staff had to take part in it to attempt to stay in the game. Again nominations would be done by other players, this process was repeated until there was only one person left, they would then be crowned the winner. The winner won the entire salon and its contents which included Super Rares, rares, Trophies and Norms. Due to the success of the campaign, other companies such as Proctor & Gamble, otherwise known as P&G - they looked into becoming a partnership with Habbo permanently.
My Scene
When the craze for the My Scene dolls occurred Habbo decided to partner up and promote the new film they released which starred Lindsay Lohan, Habbo also partnered up with them to promote the products they sold. Players had to design new clothes for use on the hotel and some of them had the possibility of being available for other players to wear. The winning designs won a selection of goodies from My Scene which included a Lindsay Lohan doll, a MyScene Limo with a working hot tub, a portable CD player, a glamorous dressing room and loads of dolls with cool outfits. This also included a sparkly, silver MyScene Save the Children wristband to show the players supported the 60 millions girls who wouldn't go to school that year.
2006
Philip Reeve
This was a promotion for a book and required Philip Reece come to Habbo to do so; it's believed that the book as 'A Darkling Plain' although it wasn't announced. To promote the book, Habbo released a Public Room called the Space Cafe which included a new bot called Nimrod Pennyroyal - a character from the book
Spreadshirt
Players were able to order their own t-shirt available in various colours which could include different images on them. Most of them were Habbo images with ducks, bobba or skulls on. If a player ordered one of these shirts within a certain time period they would also be sent a code whereby they would receive a Chinese Lacquer Sofa and a Chinese Red Knot which were both unavailable and unreleased at the time.
NSPCC
NSPCC has been to Habbo numerous times but this was the first, a campaign was ran on the hotel called 'Don't Hide It' linking to one of the main purposes of the NSPCC, child abuse. The campaign was ran to encourage players to be themselves behind the screen instead of pretending to be someone they weren't. Secrets were revealved and they didn't have to hide them away. Players were also offered the chance to speak to an advisor situated in a Public Room.
Hotxt
This campaign was open to controversey due to Habbo breaking their own Terms and Conditions by allowing and encouraging users to share personal details with one and other. Hotxt was a campaign and a service which allowed players to send a free text message to other people who used the same feature; this being Hotxt; the alternative was to send a text at a discounted price if the recipient wasn't currently a member. It wasn't fully known what players had to do but the prize was a Motorola L6 mobile phone and a 1 year subscription to Hotxt.
Dubble
This campaign was about a company that uses fairtrade chocolate to manufacture their chocolate bar, it was used to promote the 'Dubble Bars' they sold. Habbo arranged a bot in the Public Room Cafe so that if a player asked for a Dubble Bar they would be given one.
TV Hits!
This was the first magazine partnership for Habbo and campaigns included giveaways. The prizes were both Habbo based and real life based. The real life prizes included free ice cream, footballs, mp3 players, umbrellas, torches and more.
CD Wow!
This company specialised with selling audio items online and if players were interested about the site they would be guided to an alternative page whereby a unique code was available for them to enter when buying the items; this entitled them to 20% off.
Lego Star Wars II
To promote their game Lego allowed Habbo to use their trademark, giving players the opportunity to get the game for PC or Xbox 360, to win it players needed to answer one question about the game.
Popworld Promotes
This company was the child of the Channel 4 music show 'Popworld' and it was one of the weirdest partnerships Habbo had. The campaign was to allow players to pick a new band to launch into music and it was voted for by Habbo players and the public. The band would have the chance to record their music video on the Habbo Client - for this a new Public Room called the TV Studio was released; this was later released for the Studio range. It included normal Habbos who had a routine to perform and the winners were Area 15.
Rare Communications
The professional web design company had clients including Channel 4, linking on to previous campaigns such as the Popworld Promotes one. The company wanted players to design a new layour for the website that appealed to teenagers and was friendly to them. There were various prizes for this including dinner with Lost_Witness and UkChaserAl which was fully paid for and a brand new PC.
Sugar Magazine
Another magazine campaign and the prize was a 1 years subscription to Habbo club alongside a 1 years subscription to Sugar Magazine. Players had to explore various rooms to find the answer to a question.
2007
NSPCC and Childline
This was the first joint campaign whereby 2 organisations came together to form a partnership with Habbo, this was mainly due to the fact that they both support the same things and have the same goals. Habbo partnered with them to discuss internet bullying and abuse online thus encouraging them to contact the NSPCC or Childline if any help was needed on any of the topics or related ones. A new Public Room was released called the Zen Garden, one of the most popular rooms ever to be released and there were various competitions players could join. One of them included players havin to design a room to go along with the anti-bullying campaign they were running whereas anothers needed players to write a play and perform several scenes from it. During the competitions players could earn special badges and Habbo homepage stickers.
Connexions
This partnernship allowed users to get help with their education and careers future as they're the main purposes of the company. This was a simple campaign whereby players could talk to people at Connextions either by the website or on the Habbo Client.
RU Thinking
This was to help players stay safe both whilst on the Internet and in real life too and to help Habbo partnered up with RU Thinking. The organisation offered advise about many things including relationships, whether a player felt safe with someone they had interacted and spoke to and more.
Now 67
Habbo teamed up with one of the biggest CD sets and they promoted their latest CD released - Now 67. They teamed up with Habbo to give away 20 copies of the CD to 20 lucky players. The prize also included a music DVD and all players had to do was follow a trail of clues in the form of a quest; a new Public Room called The Sunset Cafe was released for this too.
Jamie Johnson: The Kick Off
This was one of the few sporting partnerships Habbo endured, this was to promote a new book by Dan Freedman called 'Jamie Johnson: The Kick Off' and the prize would be a signed copy of the book. There were 12 available and players had to take a short quiz which they then would be automatically entered into the draw to win one of the books.
Fantastic 4: The Silver Surfer
Due to the recent craze in room designing competitions another one was added. This was to design a space station, linking to the movie and one player would receive a Nintendo Wii and 500 Credits for their efforts.
The Dark is Rising
Another room designing competition about the new film 'The Dark is Rising' and this campaign was to promote it further. There was a The Dark is Rising Palace and players were asked to design a room that would be considered out of this world. This involved players using anything they could get their Habbo hands on; due to the hard work players had to put into this competition one player won a trip to Iceland for a group of 4.
Mirrorscape
For this campaign players were asked to create a surreal scene for the new new by Mike Wilks called Mirrorscape. Due to the genre this was in the Library was used for the promotion of the book and it was renamed The Mirrorscape Library.
St. Trinians
This was one of the biggest campaigns Habbo did. It was to promote the new film called St. Trinians and included a release of a new Public Room called the St Trinian's Gym which was later released again as the normal Habbo Gym. The promotion features 6 different houses which were represented by 6 different colours. Each house had a group page and one of the competitions was to try and gain the most members in the group. The winning house was the one with the most members at the end of the campaign, this went on and a headboy and headgirl were selected from the winning group; a further 10 members were elected as prefects which were from each house. All the prefects, along with the headboy and headgirl received a special badge but these were given later than expected.
2008
Mario and Sonic at the Olympic Games
This was to promote a game for the Nintendo DS which was released later on the Nintendo Wii. The campaign was simple and to be in with the chance of winning a Nintendo DS and a copy of the brand new game players had to answer a poll which appeared in a Public Room released for the promotion.
Swapitshop
This campaign featured special Furni packs for sale on the Swapitshop website; players could purchase these with swapit points. There was also a competition running alongside which players could win large amounts of points including 1000, 2000 and 3000 point bundles. Every player who answered the question available correctly were given an additional 100 swap it points as part of the deal. Players could sell their unwanted items on the Swapitshop website for swapit points, they could then buy other items they wanted and needed.
Angus, Thongs and Perfect Snogging
This was to promote the new mother called 'Angus, Thongs and Perfect Snogging' Habbo partnered with them to launch competitions and to give prizes out. Players were invited so show off their flirtatious side with numerous amounts of dating games in order to better themselves by reaching the top of the leaderboard. The top 5 Habbos at the end of the campaign would win various prizes including 100 Credits, a soundtrack CD, a poster and a shirt.
Hair Spray
Sky1 took to the stage for an all-singing and all-dancing family entertainment spectacular. To celebrate the release of the film in the musical genre, Habbo revealed a talent competition.
Camp Rock
To promote the release of the movie Camp Rock Habbo released a new competition for players to enter. Players had to form a group of 5 members, nominating the 1 leader member alongside coming up with a unique band name; they also had to produce some rock songs and create an A4 poster. This was another big campaign for Habbo due to the amount of competitions and the variety it entailed. THe members of the top 10 groups would all receive an exclusive Camp Rock badge alongside a Super Rare Camp Rock Guitar Poster Furni which included all the main characters, Demi Lovato as Mitchie, and The Jonas Brothers as Connect 3. In addition to the prizes, randomly allocated bonuses of 50 Credits were also given out.
Childline
Again Childline returned for Habbo and the Public Room the Zen Garden made a return. They came back to launch a new creative agency which was codenamed to be called 'Flashmob.' Previously, Childline had teamed up with the NSPCC but due to these being sold traders this time around the Public Room the Zen Garden was renamed to the Idea Agency Zen Garden. Each month, 4 briefs were made available and each one had a different badge players could win. The badges included the Golden Brief, given to the highest ones and it was a special golden badge to go alongside it - this was in the shape of a telephone using the Childline logo. The Street Team and two smaller briefs. Polls were released with homepage stickers so players could be rewarded for joining in with the campaign - this included a new range of Childline Furni being released into the Catalogue. Other competitions included writing film scripts which also gave players the chance to win various prizes.
Hotel for Dogs
With Hotel for Dogs beginning a partnership with Habbo it allowed them to advertise themselves. This included a number of badges being created, specialised for the promotion along with various homepage stickers. The main aim was to round up all of the stray dogs all over the hotel before Animal Control officers could come and take them away. In addition the the stray dogs competition a room building competition was also released and player had to build a hotel suitable for the dogs; to help players, all the Dogs in the Catalogue alongside the accessories were available at a discounted price.
2009
It Doesn't Have To Happen
Shortnered to IDHTH this promotion was to raise awareness surrounding knife crime, Habbo asked players to create group pages to help out with the cause. The prizes included badges so collectors created many group pages to be in with the chance to win - tips were given for players to deal with heated situations such as when they're involved in a crime like knife crime; this included a competition to find out how users would respond if a certain situation occurred to them. The second competition however, involved players writing a review on something they had seen or heard recently.
Comic Relief
A stand-up comedy competition was released to go with this partnership and promotion which would be judged finally by a top comedian. Tips were given from the real life comedian Michael Smiley and the task was simple due to the small prize of homepage stickers; it involved telling knock-knock jokes.
Earth Hour
Habbo attempted to battle Global Warming, this was done by Habbo advertising the Earth Hour event that occurs across the whole world for an hour each year. The aim was to get 1 billion people to turn off their lights for one hour on 8:30 on the 28th March 2009; this was also given alongside a poll which gave the prizes of a badge and a homepage sticker. As a result of the Earth Hour around 95,000 players participated.
Ice Age 3
This was a campaign made to help find Scrat's acorn after Habbo failed to do the job themselves. A quest to find the acorn was released and the prizes on offer were special, Scrat badges.
Night at the Museum 2
With the second movie being released, Habbo partnered with 'Night at the Museum 2'. Players had to create a forfeit script and 10 winners won a Typewriter each; the top 5 performed live alongside the Hotel Managers. Aside from this, a room building competition was run to win an unreleased (at the time) Golden Tablet with overall winners also scoring a badge.
Charlie Girl Chic
During this campaign players had to create the coolest sleepover venue they could possibly imagine on the hotel. There were various themes players could go down but many decided on the chocolate and cake theme whereas others went for the normal, pillows and blankets idea. The prizes for this included badges and also real life prizes were up for grabs for those who won.
Twilight: New Moon
To advertise the second Twilight movie Habbo released a whole range of Twilight Furni. To celebrate the movie Habbo also created some events and competitions; some of these offered polls which players filled in to win badges.
BBC Bully Proof
This campaign was another similar to the NSPCC and Childline and it was to show that Habbo supported the bully proof campaign. This was promoted by receiving and reading celebrity experiences and sharing useful tips about bullying and how to stop it too.
2010
Capri-Sun
This campaign involved players buying Capri-Sun packets that were specialised for the Habbo campaign, there were 2 groups available, one where players could just discuss the campaign and the other included the ability to input the secret code available on the special packs of Capri-Sun. The prizes for this were 5 different badges with a red background alongside a shape in the middle in a yellow colour with a yellow border and they were circular in shape.
The Last Airbender
Habbo players were required to join groups, they could decide between Earth, Water, Air or Fire. The winning group would be determined by how many players were in it, the one with the most members won the badge. Fire became the overall winner throughout the groups.
[V] Oz Artist 2010
Channel V awards were hosted on the game and players had to visit the Oz Artist Room, whilst they were there they voted their favourite musician out of the John Butler Trio, Amy Meredith, Bliss N Eso and Short Stack. One player could win a [V]ip Oz Artist Rock Star Weekend for themselves and three friends - they would also get the change to hand over the gold trophy to the winner of the category.
Despicable Me
This was a short sponsor whereby players could get their hands on a limited edition effect. It was available for 35 hours on the hotel that saw users walking around with a famous minion eye on their head. With the popularity of the effect, many minion armies were formed.
Mega Mind 3D
For this campaign, Habbo players could get their hands on a Mega Mind effect, this was a large, blue head taking over their heads. It also had freaky eyes that made it more desirable, this was a short campaign for the movie coming out in December. Players were also given the chance to view the trailer of the film on the Mega Mind group page.
Hannah Montana Forever
The spin-off to the original Hannah Montana series entered Habbo, even though some of the other hotels wouldn't have got the series on their televisions yet, such as the United Kingdom's Hotel. The campaign was for an album released as the soundtrack of the series, players needed to fill out a questionnaire where they were up for a chance to win one of the CDs available.
Gulliver's Travels
For this campaign the scenario was that the hotel's food supply was decreasing and to stop it players would be required to do a quest to find a wheat field, this would ultimately supply enough food for Gulliver to eat. If a player won, they received a badge; to win they had to complete the quest.
0800 Reverse
Players were in with a chance of winning the Wii game, Wii Sports Resort alongside a Nintendo Wii. To do so, users had to complete a quest to find a code via green Sticky Notes within Habbo rooms.
2011
Generator Rex
As the school holidays were under way a new character appeared on the popular children's television channel Cartoon Network. Generator Rex also came onto Habbo whereby players could enter a quiz based on the show. Users would then receive some stickers to place on their Homepages; alongside this they could also choose a team and battle it out through various competitions to win and take home exclusive prizes.
Rio - To Fly or not to fly?
As Rio was an upcoming film, Sulake decided to get involved via transforming featured rooms that were created just for the campaign. They allowed users to visit them as well as Homepage Stickers available of the 4 main characters that would be in the film; to receive the stickers, players were required to join the Rio group.
Rango - Hey Y'all, it's Rango time!
Rango made an appearance on Habbo with a one month campaign behind him. A new Pixel Effect was created which made a user's head look like Rango's. In addition to the effect, Habbo created a new item of furniture named the 'Rango Cactus' with 2 new badges. There were different ways to gain each item and these were by joining the official Habbo Rango group and completing a quiz. To join in with Habbo players, the Habbo staff joined in with a 'Rango march.'
Boost Mobile Surf Sho
For 3 days a surfing event was held that took place in Sydney at Bondi Beach. Habbo players were able to join the official Surf Sho group and through doing this they received a badge. Additionally, users joined in a competition to recreate a surf sho in their room and won some prizes from doing so.
The Kaboom Of Doom
Another Kung Fu Panda campaign, but this included Lord Shen and the ability to receive a special Pixel Effect; like others this made a player's head transform into a panda. Also, exclusive prizes could be won upon completing a Habbo quest. A Kung Fu Panda statue was also uploaded on Habbo too.
Girlfriend Rimmel
The magazine crew 'Girlfriend' were looking for a brand new, Habbo model. Players would enter with the best outfit they had on and compete against nearly half of Habbo's active users. Their favourite model was then voted for by Habbo users until a winner was crowned.
FRANK
This visit from FRANK was to help teenagers with drugs, the FRANK group was made available on Habbo and players could email or call FRANK if they needed any information. After watching a video on the FRANK group page Habbos were able to do a quest, if they completed it then 2000 lucky players would receive a FRANK Trophy.
Nothing's Read But Love
Rebecca Ferguson, the runner up on the popular singing competition X Factor in 2010 came to Habbo and took her spot in the Star Lounge. Players were able to chat to her from 4:30pm on the 22nd November 2011 and asked questions about her time on the X Factor and other experiences she has had throughout her life.