Mobiles Disco
Jump to navigation
Jump to search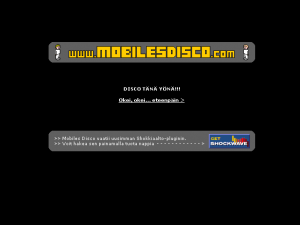 Mobiles Disco (or MobilesDisco.com) is the progenitor of Habbo and was created in 1999 to 2000. It was developed by Aapo Kyrölä and Sampo Karjalainen, the creators of Habbo as a project in their free-time. They went on to develop Lumisota afterwards.

History
Mobiles Disco was created for a Finnish band of the same name. It was designed for fans of the band to visit a space online collectively to chat and engage with each other. The game had no purpose other than a simple two-room layout of a bar and disco room for users to create avatars to socialise and dance. During the sign-up process, users would create an avatar, much like in Habbo. The game ran on Aapo's FUSE technology. The game grew increasingly popular and is stated to of had many Finnish rooms filled with foreign users. This lead to the opening of an international version. After the success of Mobiles Disco and Lumisota, Aapo and Sampo sought out to create Hotelli Kultakala (Habbo Hotel Finland). This lead to the closure of the disco in the year 2000.
Habbo
As part of Habbo's history, two rooms were created as Public Rooms titled Old Skool Habbo inside the hotel as a token of nostalgia. This was much like Snow Storm being re-invented and implemented into the hotel based on Lumisota. These rooms have since been removed during crossover to the flash client.
There has been no news since of a revival of the popular rooms.
Gallery