Stacking
Jump to navigation
Jump to search
 Hang on, we're still working on this one!

This page is currently under construction, so please don't panic while we write and update the content belonging to this part of the Wiki. 
Please don't accept this information as fully accurate until it has been completed. Thanks!
You can help by contributing the information you have on this Habbo topic, but please ensure the content is relevant and accurate. When you feel this page contains sufficient content, please remove the construction banner

Stacking is well known method within Habbo. Habbo's stack furniture on top of eachother to give their rooms a better look. Most furniture like tables or some corners doesn't really require a stacking method because you can simply place a furni on top of it. Although for plants, sofas, bars etc. you have to use a stacking method.
In earlier years, habbo's used Rollers to stack furniture on top of eachother. But since the introduction of the Magic Stack Tile, this method has become practically useless.
Roller Stacking
Stacking with rollers is the very first and oldest method players ever used to stack furni on top or in eachother. The higher a player wants to build the more rollers there has to be in the room. The amount of rollers equals the furniture you want to stack For example: if you want to place 2 furniture on top of eachother, u need to have 2 rollers in the room, to place 3 furniture on top of eachother u need 3 rollers in the room etc.. With a maximum of 35 Rollers in your room.
Basic
Magic Stack Tile
The Magic Stack Tile is a furniture to help a habbo with stacking. There are 3 stacker tiles available:
| 1x1 Magic Stack Tile | 1x2 Magic Stack Tile | 2x2 Magic Stack Tile |
| --- | --- | --- |
| | | |
If a player double clicks on the stacker tile a small tab will open with a slider, input box, Place on top button and a Place at floor level button. Players can manually control the slider or put a number in the input box, with the height restriction of 40.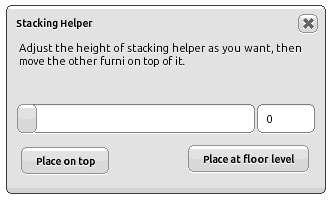 If a player place a Magic Stack Tile on a furni it will sometimes automatically take the height of the furni, or it will simply just go to floor level.
Known Furniture Heights
Here is a list of known furniture heights. Players can simply put in this number in the input box to place another furniture on top.
| Name | Height | Image |
| --- | --- | --- |
| (Lodge) Room Divider | 1.2 | |
| (Lodge) Corner Plinth | 1.3 | |
Trivia
Casinos are widely known for having stacked furniture.
Boosting Rooms are, just like Casinos, widely known for having stacked furniture.