BubbleJuice
 Hang on, we're still working on this one!

This page is currently under construction, so please don't panic while we write and update the content belonging to this part of the Wiki. 
Please don't accept this information as fully accurate until it has been completed. Thanks!
You can help by contributing the information you have on this Habbo topic, but please ensure the content is relevant and accurate. When you feel this page contains sufficient content, please remove the construction banner.
BubbleJuice

Language
English
Hotel
Habbo.com
BubbleJuice was a Habbo Fansite. However, unlike a lot of other fansites, BubbleJuice was run as more of an official partner with Habbo, working closely with Sulake to show other companies examples of how they could advertise on the Client.
BubbleJuice ran events on the International hotel using their partner HabboAddicts. There was also a forum and a radio, although these have since been shut down.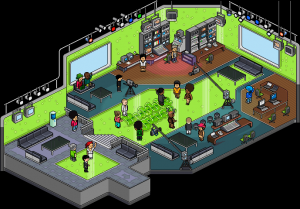 BubbleJuice had an
Official Room
on the Hotel (called BubbleJuice Lounge). It was based on the
TV Studio
and utilised a lot of the furni which was already in that room, although with many green accents added.
There was also furni released in conjunction with the site, including the Habbo Cola Machine (originally called the Bubble Cola Machine), the Habbo Cola Poster, and the Executive Drinks Tray. There were also other items; the Bubble Juice Logo, the Bubble Juice Can and the Bubble Juice Floor, but these were only available to official Habbo staff. These furni were all placed in the Mall.
When the Habbo Palooza campaign was brought out, one of the Palooza Rares was a stand designed for the Habbo Cola machine, however, it retained its original name of Bubble Juice Stand.