CheckHabbo
CheckHabbo

Opened
12-Jan-2008
Closed
Unknown
Language
English
Hotel
Habbo.co.uk > Habbo.com
Owners
.-Richie-.
-.n.i.c.o.-
CheckHabbo, previously known as Habbo-Plasto (2005), was one of many unofficial Fansites of Habbo. Founded on 12 January 2008 by .-Richie-., owned by .-Richie-. and -.n.i.c.o.-, the website went on to provide Habbos with news, events and a radio for 6 years. With a vastly growing community, CheckHabbo almost reached Official Fansite status in the 2009 Habbo UK Fansite vote, with CheckHabbo reaching 6th place in the vote.
Notable features
Live Technical Support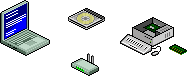 CheckHabbo was the first Habbo fansite to offer Live Technical Support to its community. This included support in the following areas:
Hardware
Software
Networking
Data Recovery
Web Development
This service was offered free of charge by the use of a Live Chat system. The CheckHabbo community could obtain both technical support and advice in the above technical areas, by a qualified team.
Departments
CheckHabbo originally had six departments, each with a number of dedicated staff.
Radio
Forum
News
Events
Live Support
Representatives
Gallery
Links