Sectional
Jump to navigation
Jump to search
Sectional

Joined Habbo
06-Sept-2006
Hotel
Habbo.com
HxF username
Sectional
Also known as
Triz
orito
Habbox Staff
Current role(s)
Forum Manager (Feb 2020 - )
HabboxLive Guest DJ (Mar 2020 - )
Habbox Merit
Reason(s):
HabboxForum Manager
Sectional, also known as Triz is the current Habbox Forum Manager. He first joined Habbo in 2002 under the username '"orito"' which he still logins to every once in a while. Triz joined Habbox in 2007 however wasn't an active member until around 2011 where he applied for Habbox Help Desk Staff, a role which he kept coming back to throughout the years, however as Triz is known for his once-a-week logins to Habbo, it wasn't a role that was viable for him, as such he turned to Forum Moderating where he could focus and dedicate more of his time, but also where he felt most at home due to vBulletin Forums being one of his strong points having managed, owned and ran his own vB forum previously.
It was announced in February 2020 that Triz would step into the role of Forum Manager[1] after the resignation of Sloths. This is Triz' first management role at Habbox, having only previously held a senior role position at Habbox Help Desk[2] in 2011.
Forum Updates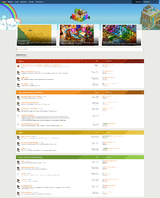 Since becoming Forum Manager, Triz has implemented a lot of changes on the Forum and except for forum skins, it was something that was neglected for around 3 years. His first major update was the addition and re-brand of the Thank/Like system,[3] which was renamed to the Reaction system where an additional 3 buttons were added to the forum "Love, Shock & Laugh" which went along with the already existing "Like" button. Hashtags were also introduced at the same time as well as updated iOS emojis and the editor box having all its buttons changed to a more sleek and professional look.
The second wave of updates came merely a few weeks later[4] which saw new Awards being introduced in line with the recently implemented Reactions system, and updated milestone awards for the forum. A TikTok BBCode was also added and a brand new feature for being a VIP where they are able to "Ignore" forums and threads of their choosing.
Triz's third[5] and fourth[6] major updates to the forum was the addition of two brand new BBCodes, which were the in-line hidden spoiler (allowing users to hide single or multiple words mid-sentence) and the rainbow text. The UserCP got given a make-over with icons being added beside each link, and default avatars being updated and the ability for users to select an avatar at registration, along with setting their Habbo name. In addition to this most of the vBulletin standard warning and error messages were given a personalised Habbox touch with them being re-written and images added.
Lots of other changes have been made however were never made public, as some changes and forum updates were for Habbox staff and therefore only valid in staff areas or visible to certain staff user groups. All of these changes/updates were mainly due to the Coronavirus outbreak which led Triz to being furloughed[7] and left at home extremely bored.
Habbox Roles
| Role | Start Date | End Date |
| --- | --- | --- |
| HabboxLive Guest DJ | 03-Mar-2020 | Present |
| Forum Manager | 24-Feb-2020 | Present |
| Debates Leader | 07-Dec-2018 | 08-Mar-2020 |
| Forum Moderator | 07-Dec-2018 | 24-Feb-2020 |
| Help Desk Staff | 21-Nov-2018 | 04-Jan-2019 |
| Help Desk Staff | 21-Oct-2015 | 12-Jan-2016 |
| Forum Moderator | 14-Apr-2011 | 07-Jul-2011 |
| Senior Help Desk Staff | 07-May-2011 | 08-Jul-2011 |
| Help Desk Staff | 20-Mar-2011 | 07-May-2011 |
Awards and Nominations
| Year | Award | Result |
| --- | --- | --- |
| Jan 2021 | Most Likely to end up in Jail 2020 | Nominated |
| Jan 2021 | Funniest Member 2020 | Nominated |
| Jan 2021 | Manager of the Year 2020 | Nominated |
| Jan 2021 | Staff of the Month | Nominated |
| Jan 2021 | Forum Moderator of the Year 2020 | Nominated |
| Dec 2020 | Staff of the Month | Nominated |
| Nov 2020 | Staff of the Month | Nominated |
| Apr 2020 | Staff of the Month | Won |
| Jan 2020 | Staff of the Month | Won |
| Jan 2020 | Forum Moderator of the Year 2019 | Nominated |
| Mar 2019 | Staff of the Month | Nominated |
| Jan 2019 | Forum Moderator of the Year 2018*[8] | Nominated |
| Nov 2015 | Member of the Month | Won |
| Jan 2011 | Staff of the Month - Help Desk Staff | Won |
Forum Awards
| Award | Date |
| --- | --- |
| Most Love | 01-May-2020 |
| Most Shock | 01-May-2020 |
| Staff of the Month | 28-Apr-2020 |
| Habbox Facebook | 28-Apr-2020 |
| Lady Marshmallow Helper | 16-Apr-2020 |
| 2500 Posts | 20-Mar-2020 |
| Habboxween 2019! | 12-Nov-2019 |
| 12 Year Milestone | 24-Sep-2019 |
| Debates Top Contributor | 25-Aug-2019 |
| Easter Eggstravaganza 2019 | 08-May-2019 |
| Debates Leader Award | 16-Apr-2019 |
| 1000 Posts | 23-Jan-2019 |
| 9 Year Milestone | 24-Sep-2016 |
| 10 Year Milestone | 24-Sep-2017 |
| 11 Year Milestone | 24-Sep-2018 |
| Member of the Month | 04-Nov-2015 |
| 7 Year Milestone | 24-Sep-2014 |
| 8 Year Milestone | 24-Sep-2015 |
| HabboxForum's 10th Birthday | 11-Sep-2014 |
| 5 Year Milestone | 24-Sep-2012 |
| 6 Year Milestone | 24-Sep-2013 |
| 4 Year Milestone | 24-Sep-2011 |
| Forum Updates Award | 16-May-2011 |
| Limited Edition Donator (Easter) | 27-Apr-2011 |
| 1 Year Milestone | 24-Apr-2011 |
| 2 Year Milestone | 24-Apr-2011 |
| 3 Year Milestone | 24-Apr-2011 |
| HabboxForum Bunny Hunt | 23-Apr-2011 |
| Habbox Donator | 09-Apr-2011 |
| Habbox Twitter | 09-Apr-2011 |
| Official Habbox Habbo Group | 17-Mar-2011 |
| Habbo UK | 17-Mar-2011 |
Trivia
Loves Disney
Used to compete internationally at Gymnastics
Favourite film is Inception
Can recite both letters in "My Sassy Girl" 2008
Drives a Car Transporter (HGV)
Can pull a wheelie on a unicycle
References