Redtiz
Jump to navigation
Jump to search
redtiz
Joined Habbo
19-Sept-2004
Hotel
Habbo.co.uk
Also known as
MOD-Tico
Former Habbo Staff
Role(s)
UK Assistant Community Manager
Community Manager (UK and Canada)
Safety & Education Officer
Senior Manager of Moderation & Safety
redtiz (real name Emma Monks) was a member of Habbo Staff, working primarily within the Habbo.co.uk community. Joining the Habbo UK Staff team in 2004, she worked primarily in safety-orientated roles, including serving as Assistant Community Manager, later being promoted to Community Manager. redtiz was instrumental in implementing and updating the Habbo X programme in Habbo UK and later internationally. She left Habbo in 2011 and now works as Head of Community at Crisp Thinking. She was known for being one of the kindest members of staff within the community, no job was too small.
Emma Monks has long had a keen interest in online message boards, virtual worlds and social games and has been involved in managing them since her days as a volunteer back in 1991. She pursued a degree in film at the University of Middlesex but dropped out to start a career in community management. Before working for Sulake, makers of Habbo Hotel, Monks held positions at AOL and News International.
Habbo Roles
| Role | Start Date | End Date |
| --- | --- | --- |
| Senior Manager of Moderation & Safety | Aug 2008 | Jun 2011 |
| Safety & Education Officer | Jul 2007 | Aug 2008 |
| Community Manager | Sep 2004 | Jul 2007 |
Career at Sulake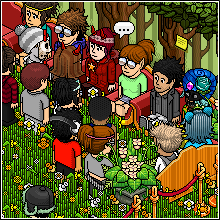 Monks began at Habbo.co.uk as the Assistant Community Manager, working Community Manager alongside Becs on the account redtiz. She often answered Calls for Help on a moderator account MOD-Tico. In late 2005, she became responsible for the Habbo eXperts programme within the UK hotel and continued to manage the programme until early 2007. Her duties involved recruitment into the programme, as well as managing training and selecting team leaders for each eXpert team.
During the 2005 Housekeeping scandal when various Habbo Staff, Hobbas and famous members of Habbo UK community has their personal information including emails and passwords leaked, Monks took it upon herself to attempt to trace and refund the users. Her Trophies room conveys many of the Habbos she had helped during that period.
At some point during late 2006/early 2007, redtiz became Community Manager for both Habbo.co.uk and Habbo.ca, and continued to manage the eXpert programme in both hotels. She only stayed in this position for a short while, however, before taking up a position as Safety & Education Officer, a role that meant she was involved in user safety in all Habbo communities. She was replaced by Heidster as Habbo UK Community Manager.
She eventually progressed to become Senior Manager of Moderation & Safety, overseeing moderation policy for every Habbo community. She stayed in this position through the merge in 2010 and into 2011.
Life after Habbo
In May 2011, redtiz announced that she was leaving Habbo and her role as Sulake staff after 7 years of service [1]. She moved on to a consultancy role at eModeration and today she is Head of Community at Crisp Thinking. [2]
"I thought I'd put a pre-emptive spoke in the wheel of the rumour mill as I know there's always a lot of speculation when staff leave. Well, this time it's me who's leaving Habbo....in approximately 10 minutes. No, I've not been fired not made redundant - I handed in my notice at the end of April the good, old-fashioned way because I'm going on to a new job with a new company. I've been at Habbo (Sulake) for 7 years, first as the UK Assistant Community Manager, then Community Manager for UK and Canada for a spell, then Safety & Education Officer and this final post I'm leaving is Senior Manager of Moderation & Safety. So I'm afraid dropping me a PM will no longer lead to help as I won't be around - my little redtiz character will disappear from all hotels, though if you've got a mind to you'll still be able to check out the Hobba Hall of Fame rooms on habbo.com under my account. It's been a pleasure working with all the people at Habbo, from the old Hobbas and Moderators through to the Habbo X, Head Guides and, of course, the staff at Sulake! Best of all, it's been a pleasure talking to you players and hearing your ideas for the game you sometimes love, sometimes hate. I hope you all go on to great things and have much fun! For the final time.... Emma/redtiz"
Gallery
Trivia
redtiz has two more rooms titled 'Hall of Fame' that are now locked.
References