The Coin Club
Jump to navigation
Jump to search
The Coin Club

Opened
2019 - Present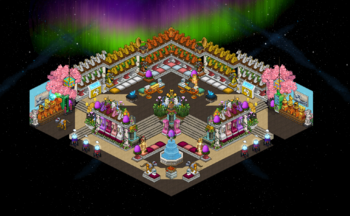 The Coin Club[1] is a group on Habbo.com (International) which was created on March 17 2019 and officially opened September 29 the same year.
The Coin Club is dedicated towards promoting rare trading and encouraging users to aim for new heights in terms of wealth on the hotel. The club consists of several "Coin Clubs" which represent various tiers of wealth, i.e: 5k, 10k, 25k, 50k, 75k and 99k+ credits. These groups are request-only and require an audit by a group admin to gain entry. This is done, in their own words, to "keep the authenticity of the group, and to not undermine the hard work and time spent by traders to increase their wealth." The various Coin Groups can be seen as milestones that profiteers can aim to reach in their trading endeavors.
Member Count
As of 5 July 2020, there are 2,100 Members in the main Coin Club group, with the following amount of users in each individual tier of wealth:
| 99k Club | 75k Club (New) | 50k Club | 25k Club | 10k Club | 5k Club |
| --- | --- | --- | --- | --- | --- |
| 24 | 10 | 23 | 36 | 46 | 43 |
Owners
The Coin Club has a total of 5 owners, these owners are responsible for auditing users that wish to join any of the Coin Clubs. Below are the current owners of The Coin Club:
Group Homeroom

The Group homeroom is home to many notable rares. The estimated total value of the room exceeds 700,000 credits, with a major portion of that value consisting of various Ultra Rares i.e: The Moodi Machine, Fuchsia Ice Cream Maker and Pink Dragon Lamp.


Below are some of the rares in the room that are worth over 2,500 credits per.
Gallery
References