RoboBoy Face
Jump to navigation
Jump to search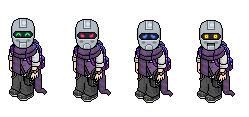 RoboBoy Face is a very popular super rare clothing that utilizes the "face" slot within your avatar. It was released in August 2018 during the Tokyo campaign as a craftable item.
This wearable is highly unique because it has multiple faces depending on the expression triggered via in-game chat.
The item can be traded or bound like any other Clothing item.
Crafting
Although it's classified as super rare, the RoboBoy Face can be crafted by using a Toolbot from the Tokyo campaign in which it was released. The recipe to craft a Roboboy Face requires two RoboBoy Plushies and two RoboCat Plushies.
The plushies are obtained from a Gacha Machine which were sold for 35 Credits and 35 Diamonds during August of 2018. Each machine gave 1 of 10 Tokyo plushies which can be used to craft not only the RoboBoy Face but also five other clothing items.
The RoboBoy Face is classified as a super rare based on its extreme price and rarity.
ROBO SQUAD
Habbos who have bound and actively wear the RoboBoy face can join a group named ROBO SQUAD, founded by legendary trader B. The group currently has 130 members, representing the largest exclusive group for a wearable on the hotel.