The Moodi Machine
The Moodi Machine was an item of furniture released in 2009 as part of the 'How You Feeling' room competition, which was a part of the Idea Agency promotion in the UK hotel. It was given as a prize to the Habbos who designed the top 5 rooms, the helpers who contributed to the event and Habbos who came up with event ideas relating to the Childline campaign.
The Moodi Machine is a machine which dispenses small Hand Items called moods, which are red, green and orange and have small faces on them.
There were originally only 15 Moodi Machines on the hotel, with an extra ten being added for the room competition and helpers. Bucho6, however, hosted an event where much more were given out. There are still less than 100 Moodi Machines on Habbo Hotel, some belonging to disused and banned accounts, so they are not traded very often.
Controversy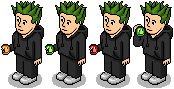 The Machine was subject to controversy on the hotel when it was given out. A player called Plebings was meant to be hosting an event, but pulled out before the slot. At the last minute, one of the Hotel Managers at the time, Bucho6, hosted a Fridge Race-like event in Plebings' room with Moodi Machines. For each winner of his event, he gave out a Moodi Machine as a prize and gave 3 to the players who had come up with the best Childline-related event ideas. By releasing many more than the original 15 on the hotel, he made the prices drop drastically.
Known Examples
Here are confirmed owners of The Moodi Machine on Habbo.com.
Owner
Quantity
Last Updated
Colossal
1
17-May-2017
MARUHA123
1
03-Oct-2018
neutralmlkh0tel
1
25-Oct-2018
Jordan-Safe
1
09-Oct-2018
Fable
1
10-Dec-2018
Total
5/??