Hacker Hunt
Jump to navigation
Jump to search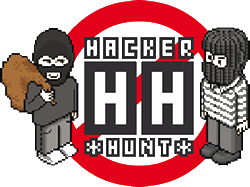 Hacker Hunt was a campaign in October and November 2010 on Habbo.nl about online safety.
Competitions
October 1st: The Hunt is On
Unmask the notorious hacker and win an exclusive Hacker Hunt Safe.
Hacker Alert * * Hacker Alert *
That can only mean one thing: The Hacker Hunt has started!
Take on the role of a sneaky hacker to catch an infamous thief! Start with the first victim: Bebe-Princess. This habbo didn't had a hackerproof password and was hacker. She used her habbo name as her password (noob)
To be able to follow the hacker you have to think like a real hacker. Ask the bots in the rooms and look at the victim's homes to crack the password of the robbed rooms. Do you know who the hacker is and will you eventually end up in his storage? Then enter the name of the notorious hacker below and you might win one of the 4000 exclusive super safety Hacker Hunt Safes that will be randomly given out among the correct entries. Oh and offcourse you will also get a Hacker Hunt Badge if you didn't have that one already... So catch that hacker!
October 18th: Get Ready For.... Jet's Hacker Hunt
Are you hacker-proof? Visit the Hacker Hunt Headquarters!
The biggest Hacker Hunt ever has just started! Jet and her super HH-Team are ready and opened the HH-Headquarters. Did you answered all the questions about using a safe password, then you will recieve an exclusive HH-Badge on October the 28th.
Password tips from Jet:
Tip 1: Create a password of 8 or more characters
Tip 2: Always create a combination of symbols (like %#&*), numbers and (capital)letters.
Tip 3: Think of an "unforgettable" help-sentence and turn all the first letters of the sentence into your password
Tip 4: Change your password a couple of times a year
Tip 5: Never choose a easely retrievable password: like woords, your birthday or adres etc..
Tip 6: Never tell your password to somebody else
Tip 7: Use different passwords for different sites
What is a hacker-proof password?
A strong password contains random numbers, letters and symbols. make your password as long as possible but try to make it so that you can easily remember it. This means that you never created a password that contains things like: your name, birthday or postal code. Also it's not recommended that you choose a password that relates to what you use the password for: email01 for your email. Never use existing words from a dictionary either.
Jet's password creator:
Step 1: Choose a sentence that you can remember easily, like: i have three small funny dogs at home.
Step 2: That sentence must contain numbers, letters and capital letters: I have 3 small funny dogs at home
Step 3: Take the first letter of every word: ih3sfdah
Step 4: Add some symbols or puntuation marks: I have 3 small funny dogs at home!!
Step 4: Do u have 8 or more characters now? Good!: ih3sfdah!!
You may know everything about me, except my password ;)
November 5th: What's your Hacker Hunt technique
Win a Hacker Hunter Furni package!
The quiz is done and the notorious hacker C.de.Crime has been caught and banned! With the teamwork of Jet and her super team you're completely Hacker Proof now. As a real Hunter we ask you to show your technique in capturing hackers. Do u dig pittfalls or do u have another smart trick, send this in the form of a magnificent pixelart, photo or video before Friday November the 12th.
The three best entries will recieve a Hacker Hunt furni package. This package contains the Hacker Hunt Safe to store your valuable credits and handy furni to lock up those $*#$&!* hackers.
Hacker Hunter Furni Package:
Hacker Hunt Safe
2 Prison Towers
2 Prison walls
Prison Gate
Get Them All Hunters!
Public Room
Even a special Public Room were opened for players to go to
Hacker Hunt Safe
The Hacker Hunt safe is an exlusive Habbo Netherlands furni given out during this campaign.
Gallery