Year of the Rat
Jump to navigation
Jump to search
Hang on, we're still working on this one!

This page is currently under construction, so please don't panic while we write and update the content belonging to this part of the Wiki.
Please don't accept this information as fully accurate until it has been completed. Thanks!
You can help by contributing the information you have on this Habbo topic, but please ensure the content is relevant and accurate. When you feel this page contains sufficient content, please remove the construction banner
Year of the Rat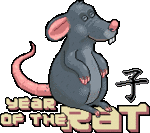 2020 will be the Year of the Rat of the Chinese zodiac. The last time (in habbo era) that it was the year of the rat was 2008.
2008
Room Competition
This competition was along side the Habborella campaign
Build the best Chinese New Year Room!
Build a room that reflects what excites you about the Chinese New Year. Get inspired by the color red, glowing lanterns and dragons or perhaps build an ode to the Year of the Rat.
Use the Asian and Habborella furni lines and anything else to create your vision. Points are given for theme, originality, and the 'wow' factor. Finalists get their screenshots posted and will receive a Year of the Rat badge plus a special Valentine furni gift. The grand prize winner will receive a rare Green Dragon Lamp.
2020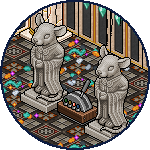 Furniture
| Name | Image |
| --- | --- |
| Golden Rat Statue | |
| Rat Statue | |
| Rat Poster | |
Clothing
| Name | Image |
| --- | --- |
| Rat Accessories | |
Games
Happy Chinese New Year 2020
We're ready to celebrate the Chinese New Year with a maze full of fun obstacles. Each room will be dedicated to an animal from the Chinese horoscope. Complete each game and make sure you find the room dedicated to the Year of the Rat in order to collect the brand new badge we have prepared for you.
Chinese New Year Maze
Your adventure starts here. Move past the ox statues, make sure you don't stand too close to them or you'll have to start again. Once you've made it to the other side, take the teleport to continue.