Mr-Sinister
Jump to navigation
Jump to search

Mr-Sinister was a habbo character. He was one of the Christmas contenders in 2007 after Santa.3000 left. Eventually also he left and Christmas contender number 4 Larry took over.
Introduction
Just when you thought Christmas was all about futuristic sounds and robotics, it all turns around as a new contestant enters the stage!
Please welcome .. Archibald A. Typical, aka "Mr. Sinister"!
"We believe that the ideals of Christmas and those of our company are co-operable. Hence we are proud to help you celebrate Christmas… Nautical Logistics Style!" – Spokesperson for Nautical Logistics Corporation
Be warned Habbos, this guy's no Christmas softie. There'll be no tinsel and bon bons while he's in power. Mr-Sinister is a tough-talking business man who wants you to know that Christmas is all about survival of the fittest. A self made millionaire by 15, Mr Sinister makes money through his business "Nautical Logistics Corporation" by trafficking in goods travelling the seas and delivering live cargo. His hobbies include gardening, studying the stock exchange and practising his favourite phrase "YOU'RE FIRED!" Santa3.000 has been kicked to the curb and now Mr-Sinister has his eye on the prize.
Until next Friday morning take advantage of the following items available:
Snowy Maze Furni
Snowy Christmas Tree
White Area Furni
Cool deals for your walls
Check out the catalog now!
Competition: Mr-Sinister has also released a new competition, in case you didn't catch it. VOTE ON your fave tricky Maze and decide who can become a Hab-onaire!
Hold on to your briefcase and get ready to negotiate your way to the top of the business world! You can keep up with all the happenings on the Xmas 2007 Group page.
Competition
An A-Maze-ing competiton ;)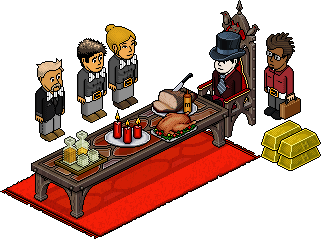 Mr.Sinister loves challenges, and he loves winners.. It is the survival of the BEST and he has a challenge for you!
Mr.Sinister really enjoys a good labyrinth - putting obstacles in your way is what makes his lips curve and insides chuckle. Some might call him a cruel and evil man, but really.. he's just constantly on the lookout for that one person who can create a challenge great enough for him to beat.
Are you that Habbo?
As I'm sure you've already noticed, Mr.Sinister has brought a lot of snowy shrubbery with him, so why don't you build him a maze that will blow his socks off? Use his maze furni and other bits and pieces you see fit, and create a maze so cool that no one has ever seen its like!
Prize:
Mr.Sinister will make it worth your while.. as the winner of this challenge will receive 100 Habbo Credits! Mr.Sinister himself will be picking the finalists for this challenge, and then it is up to the rest of the Habbos to decide which one they deem the best. The finalists will of course receive a little something as appreciation for their hard work as well.
There are a few rules, though..
you have to make a maze that is actually possible to master
it has to be located in the Mr.Sinister's Maze Floor
you need to enter the entrance room in the form below
your maze cannot be bigger than 3 guest rooms and must be linked by teleports
The finalists will be picked on Dec 18.
That's it -- get going!