Larry
Jump to navigation
Jump to search

Larry was a habbo character. He was the last of the Christmas contenders in 2007, he took over after Mr-Sinister left
Introduction
Larry is here... ... and he is about to woo you with his wonderful inventions, furni deals, cool competition and his mere.. charm! Ready or not - check it out ;)
"Xmas is magic, my friend! How else than "magic" would you call the chance to grow your own Xmas Tree in no time, thanks to this amazing product?" - Larry about "Larry's Magic Fertilizer" a.k.a. Reindeer Droppings.
Larry is the sweet, albeit naive guy, who quit his job building Lodge Furni for the Habbo Furni Factory in order to pursue his dream of making his "wonderful ideas" come to life. In the process he managed to lose his car, house and wife, but left with only his pretend-reindeer friend, Jeff, he stayed focused and hard at work, creating such great inventions as the "Magic Fertilizer" (reindeer poop) and the Stuffed Reindeer Rare (that he claims will come alive on Christmas Eve.. ahem).
He's wasting no time getting down to business, so check out what's on offer:
Rare Stuffed Reindeer (OMG!!!)
Santa's Sleigh
Reindeer Droppings
Larry's Furni Deals
Just jingle-bell-rock on into the hotel and check your catalog - right away!
Competition
THE DODGY CHRISTMAS WORKSHOP COMPETITION!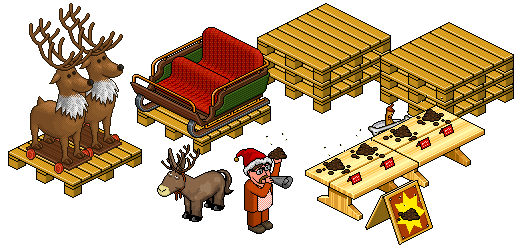 Larry's Christmas workshop is a mess! He likes to call it controlled chaos, but after failing a routine health inspection we think it's safe to say his work practices are as shifty as the furni he sells.
After being forced to close down his previous premises, Larry is looking for another location to set up his business... this is where you come in.
PRIZES
Design Larry a dodgy Christmas workshop and help the battler get back on his feet, and you could score the following prizes:
All finalists will win a Larry sticker, plus a Reindeer Rare. Overall Winner - as voted by the community will also receive 100 Habbo Coins!
How to Enter:
Create a dodgy workshop in your Guest Room
Add it to "Larry's Dodgy Workshops"-floor in the Navigator
Fill out the entry form below as soon as your room is ready!
Entries close on the morning of December 26. Good luck!