Imperial Treasure Hunt
Jump to navigation
Jump to search
Imperial Treasure Hunt

Number of players:
n/a
The Imperial Treasure Hunt was a small event on Habbo.com in May 2007. The event was meant for the release of the Russian Samovar. Along with the event, new blue coloured Mode was released as well. Habbos had to search through rooms using Imperial Teleports to find clues for a password for a Secret Treasure Room. In that room Habbos had to count all the purple coloured rares that were present and fill that out on a form on the homepage. Roughly 15 Russian Samovars have been handed out during this event before its official release into the catalogue.
Treasure in BLUE MODE?
Whimsy, archaeologist/treasure hunter/Habbo Russian interpreter
Can you find the Imperial Treasure?
Heya Habbos!
This was a crazy weekend!! We have a treasure hunt in the Hotel! It all started like this: I was helping the movers unload the most recent shipment of Blue Mode, and then I noticed a shiny object in the back of the huge container. It was in a broken box next to some blue cushions at the very very back of the load.

The movers helped me move the boxes aside and we grabbed the box. The box was covered in a foreign language, it looked like Russian! When we got the box out into the light in my Blue Mode room, we took out this huge golden urn like thing. It was so shiny and beautiful, A RUSSIAN SAMOVAR!
As we turned it over in I caught a glimpse of an etching, see picture below: Initially, it was written in Russian, but I busted out my handy-dandy Russian to English Dictionary and translated it.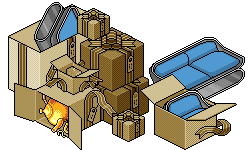 TREASURE!!!! Gold???? Here in the Hotel? I want to find this place of riches and decadence …..But that is where I am stuck. Imperial X? What the….? Head to my Blue Mode room. I do my best thinking in there- maybe it can help you!
So I need your help: You need to go find out where this gold is and let me know how it is going. I bet there is a password involved and maybe some really rich Furni! Go and find it and enter it below. The first 10 correct entries will win a replica of the Russian Samovar and the another 10 random Habbos will win 1 gold coin for helping in the quest!
What is the password for the Greatest Treasure Room? - riches
How many pieces of purple Furni are in the Greatest Treasure room? - 15; 13 Purple Pillows and 2 Dino Eggs
Winners of the Russian Samovar:
Ariana5
llamalover45
Joann
Hotboricua
Outword
-=Natoya=-
-Dispirited
Bill
Q
Me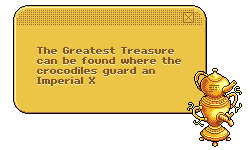 Winners of the Gold Coin:
Kari-42164
IndianRidge
VinnyMarkilo
b8ssgurl
VVVallejo
Rachel
mig-mate
mt511
jocelyn2007
UltraCat
Treasure Hunt Room Comp
Calling all treasure hunting room decorators! Decorate a room in the Imperial Treasure Hunt style and you could win a Russian Samovar. In 1 room, set up your best treasure hunt, with clues and treasure- whatever that means to you. The 5 best rooms will win a Russian Samovar and a Gold Bar and 10 randomly selected Habbos will win a silver coin for participating.
Earn Treasure in Trivia
Treasure Trivia happens today in the Theaterdome! Get your Treasure Hunting Trivia to the front of your brain. Movies, lore, and famous books will all be fair game. If you get the question right, you will be 1 gold coin richer! We will start at 4:30pm PDT/7:30pm EDT. I'll see you there, treasure hunters!
Russian Samovar on Sale!!
There is Treasure in the Catalog! After searching and seeking and hunting the Russian Samovar can now be yours! For the nominal price of a Rare this shiny, gorgeous Urn from Antiquity can stand tall in your room, casting a regal shadow on the rest of your Furni.