Holo-Duck
Jump to navigation
Jump to search
Holo-Duck

Release date:
February 2011 (Habbo.com)
February 2020 (Habbo.com.tr)
Rare Values
Category:
Hearts (Habbo.com)
New Rares (Habbo.com.tr)
Value:
Habbox Rare Values

The Holo-Duck was a Valentines Hearts gift released in February 2011 for 25 Credits and 45 Hearts.
On Habbo.com.tr due to the hotel opening after the Holo-Duck was released it is known as Holo Duck and was a New Rare sold in February 2020 during the Valentines 2020 campaign.
It was released alongside the similar Holo-Heart and both are similar to the Holoboy and Hologirl.
Badge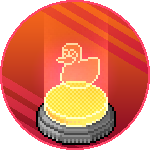 Every user who purchased the Holo Duck in 2020 on Habbo.com.tr also received a badge.
According to Habbowidgets 124 Habbos have this badge
Trivia