Smilla
Jump to navigation
Jump to search


Smilla was a Habbo character that was introduced in November 2007 as part of the Christmas campaign. She was the first in a line of Christmas Contenders to host competitions. Following her departure in December 2007, she was succeeded by Santa.3000[1].
At the end of December players were able to vote for their favourite Christmas contender, which resulted in Smilla winning.
Introduction
At the end of November 2007, an article was released onto the Habbo homepage that introduced Smilla; stating that she is an Inuit wandering Shaman and in this role used snow and ice spirits as advisors and spiritual guides to help keep tribe membres healthy and defend them against negative forces[2].
Competition
Smilla's Polar Room Design Comp!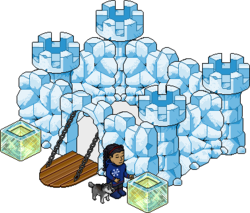 Following the release of the snow castle furniture line, a competition was launched in the hotel that asked players to design an ice castle/igloo/iceberg-themed room[3]. The winning entry would receive 50 Credits, one month of Habbo Club and an assortment of Christmas-themed stickers. The winner of this competition was AgentDark, while users HAPPY and .venus also received prizes for their entries[4].