Hotel Hideaway
Jump to navigation
Jump to search
Hang on, we're still working on this one!

This page is currently under construction, so please don't panic while we write and update the content belonging to this part of the Wiki.
Please don't accept this information as fully accurate until it has been completed. Thanks!
You can help by contributing the information you have on this Habbo topic, but please ensure the content is relevant and accurate. When you feel this page contains sufficient content, please remove the construction banner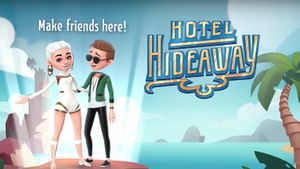 Hotel Hideaway is a social game created by Sulake. It is available on Android and Apple devices.
Although Hotel Hideaway (17+) is aimed at an older audience than Habbo (13+), users of Habbo.com were able to link their Habbo account to their Hotel Hideaway account for a brief period to receive a gift with two exclusive items. When this feature was introduced in April 2018 it was only available on the .com hotel because Hotel Hideaway was only available in English.
Habbbos who want to redeem the items need to go to the Hotel Hideaway page in their settings, copy their unique code, and then redeem code on Hotel Hideaway. All avatars linked to the accounts on Habbo and Hotel Hideaway receive the four items (two on Habbo and two on Hotel Hideaway). The items are not tradable.