Celebrity Visits
Jump to navigation
Jump to search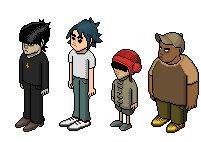 Celebrity Visits have been a regular occurrence on Habbo since 2004. The first celebrity visit to the hotel was from indie band 'Rooster' in October 2004. Habbo staff member GlitterKat interviewed the band outside the hotel and then published the interview on the Habbo website. Usually a few days prior to a visit, Habbo releases a news article to inform the community about the celebrity guest, as well as the time and location of visits within the hotel.
Most of these visits are an informal question and answer session where Habbos can ask any appropriate questions, usually in the presence of Habbo staff in case someone is being inappropriate. People who aren't inside the room can either wait in the queue, or they can simply go to Spectator View.
As proof that celebrities actually visited the hotel and it wasn't just a sham, staff usually create special in-game Clothing for the celebrities and take pictures of them whilst they're visiting.
List of celebrity visits
Below is a list of celebrity visits, from all hotels - starting with the most recent ones first:
Visits in 2022
Visits in 2016
Marina Joyce - November 2016
Visits in 2015
Soulja Boy - October 2015 (Unofficial visit announced that he visited via Twitter. Habbo awarded him with VIP-ARTIST badge on account souljaboysbeezy)
Visits in 2014
Jordan Banjo and Perri Kiely from Diversity - March 2014
Pixie Lott - March 2014
Luke Friend - March 2014
Visits in 2013
The Backstreet Boys - July 2013
Room 94 - July 2013
Carrisa Walford - August 2013
Little Nikki - August 2013
Jennette McCurdy - October 2013
Marty Smiley - November 2013
Visits in 2012
Carly Rae Jepsen - April 2012
Demi Lovato - April 2012
JLS - March 2012
Mindless Behaviour - February 2012
Cher Lloyd - February 2012
Visits in 2011
Pixie Lott - September 2011
Soundgirl - June 2011
Olly Murs - March 2011
Visits in 2010
Tinchy Stryder - November 2010
McFly - November 2010
Joe McElderry - October 2010
Pixie Lott - October 2010
Olly Murs - August 2010
FranKo - August 2010
One Night Only - August 2010
The Saturdays - August 2010
The Wanted - August 2010
Fugative - July 2010
"The Surgery" Radio One - July 2010
Diana Vickers - July 2010
Vanessa Amorosi - July 2010
Tom Felton - July 2010
Miley Cyrus - June 2010
George Sampson - May 2010
Jason Derulo - February 2010
The Sugarbabes - February 2010
Family Force 5 - February 2010
Owl City - February 2010
Demi Lovato - January 2010
Erik Hassle - January 2010
Stephen Baldwin - January 2010
Visits in 2009
Adam West - October 2009
JLS - October 2009
Tokio Hotel - September 2009
Paramore - September 2009
Dolly Rockers - September 2009
Derek Landy - September 2009
Jet - September 2009
Taio Cruz - September 2009
The Veronicas - September 2009
Basshunter - September 2009
Funeral for a Friend - September 2009
Booty Luv - September 2009
Pixie Lott - August 2009
Parachute - August 2009
Calvin Harris - August 2009
September - July 2009
Danny Gokey, Adam Lambert and Kris Allen - June 2009
Allison Iraheta - May 2009
Matt Giraud - May 2009
Lil Rounds - April 2009
Anoop Desai - April 2009
Vonzell Solomon - April 2009
Scott MacIntyre - April 2009
Mikalah Gordan - April 2009
Megan Joy - April 2009
Eoghan Quigg - April 2009
DJ Ironik - April 2009
Dame Jacqueline Wilson - April 2009
Michael Sarver - March 2009
David Archuleta - March 2009
Alexis Grace - March 2009
Jorge Nunez - March 2009
Jasmine Murray - March 2009
Visits in 2008
Jeb Corliss - December 2008
The Days, Envy and Alesha Dixon - Habbo Festival of Music - November - December 2008
Meet an insider! - October 2008
The Plain White T's - September 2008
Alkaline Trio - August 2009
Patrick Droney - August 2008
The Submarines - August 2008
Monet - August 2008
Katie Still - August 2008
Laura Duncan - August 2008
Lenka - August 2008
Kerli - August 2008
The Subways - August 2008
Dylan and Cole Sprouse - July 2008
Polly Scattergood - July 2008
The Ting Tings - May 2008
Tokio Hotel - April 2008
Natasha Bedingfield - April 2008
Jordy Benattar - February 2008
Mandy Moore - February 2008
The Donnas - January 2008
The Dudesons - December 2008
Visits in 2007
Jordin Sparks - December 2007
Jesse Hart - November 2007
Ville Valo of HIM - November 2007
Sean Kingston - November 2007
Bullet For My Valentine - October 2007
Oasis - October 2007
David Guetta - September 2007
Mat Hoffman - August 2007
Amber Stevens - June 2007
Shane Sparks - June 2007
Zach Ward - June 2007
Candy Hill - June 2007
The Fabulous Rudies - June 2007
Daniella Monet - June 2007
Rachel Leigh Cook - June 2007
Marissa Lauren - June 2007
Sean Michael - June 2007
Boo Boo Sewart- June 2007
Claire Cooper - June 2007
Until June - May 2007
Between The Trees - May 2007
Leonard Roberts - May 2007
Ozzy Osbourne - May 2007
Louisa Lytton - April 2007
Operator Please - April 2007 (AU)
Stephanie McIntosh - March 2007 (AU)
Simon Webbe - February 2007
Laura Enver - February 2007 (AU)
The Automatic - January 2007
Tyree - January 2007 (AU)
Visits in 2006
Lil' Chris - December 2006
Matt Willis - December 2006
Evermore - December 2006 (AU)
Jamelia - December 2006
Area 15 - December 2006
Faithless - November 2006
McFly - November 2006
365 - November 2006
Chamillionaire - November 2006
Kate Alexa - November 2006 (AU)
The Dudesons - November 2006 (AU)
Jesse McCartney - November 2006 (AU)
Little Birdy - October 2006 (AU)
Akon - October 2006
Stacie Orrico - August 2006
Evermore - August 2006 (AU)
Lily Allen - July 2006
Stephanie McIntosh - June 2006 (AU)
The Veronicas - July 2006 (AU)
Shayne Ward - April 2006
Visits before 2006
Gorillaz - August 2005
Rooster - October 2004
Gallery
References
See Also