Year of the Monkey
Jump to navigation
Jump to search
Hang on, we're still working on this one!

This page is currently under construction, so please don't panic while we write and update the content belonging to this part of the Wiki.
Please don't accept this information as fully accurate until it has been completed. Thanks!
You can help by contributing the information you have on this Habbo topic, but please ensure the content is relevant and accurate. When you feel this page contains sufficient content, please remove the construction banner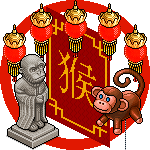 Year of the Monkey is a celebration of the Chinese zodiac Monkey that last throughout the year.
The first time it was the Year of the Monkey (in habbo era) was 2004. but habbo didn't do anything about it back than. The next time it will be the Year of the Monkey again will be in 2028.
2016 However brought some new furniture and a room bundle.
Furniture
| Name | Image |
| --- | --- |
| Monkey Statue | |
| Monkey Poster | |
| Monkey Balloon | |
Room Bundle