Traxfactor
Jump to navigation
Jump to search
Traxfactor

thumb

Number of players:
n/a
Traxfactor was an event held in November 2007 on Habbo.co.uk
Get Ready For Traxfactor
The hunt is on for the greatest Traxmachine based musical talent in Habbo. There is a role for everyone to play and great prizes!
Over the next three weeks we will be searching for leading Record Labels on Habbo based on the quality of their promotional activity, their organisation and of course the artists that sign for them and the quality of the music that they produce on the Traxmachine.

How It Works
The Record Labels will be going head to head with each other by submitting the name and the song of the individual Habbo artist that they have signed. The community will then vote for their favourite artists based on who they think should win a place in the grand final.
The role of the Record Label, aside from submitting their artists information, is to ensure the community knows about their artist, has heard their music and will give them their vote. This will require many different key departments working together within the Habbo Record Label. Don't worry though, we have loads of useful information coming your way over the first week to get you on the road to stardom so relax for now and soak in the great tips we will be providing you with during the first week.

Get The Latest Info.
We will provide you with detailed information about the competition so that everyone is full of great ideas before the competition really starts to heat up!
Starting Out
Organisation
Promotional Activity
Artist Management
Once all the steps have been explained, you will have all the knowledge you need to get stuck into the competition, sign your artist(s), impress our real life judging panel, win some quality prizes and of course be crowned the Traxfactor Champion!

Starting Out
To get your Traxfactor campaign up and running, the first thing that you will need to do is create (or be a part of) a Habbo Record Label. This can be created by setting up a network of rooms such as the reception, recording room, press office, night club and celebrity lounge - among other things!
It's completely up to you how your Record Label looks and feels. Be creative, be clever and have fun! You should start construction now ahead of Monday 3rd December.

Executive Furni
To help you create your Habbo Record Label, we have introduced the Executive Range of Furni which can be found inside the Traxfactor section of your Habbo Catalogue. Please note that this range is only available during the three week competition.
Meet The Traxfactor Judges
The biggest music competition in Habbo history will be judged by members of a record label and the singer of a top band.
We have some short introductions outlining the roles and job specs of each judge below, so find out who holds your destiny in their hands!
Have YOU got the Traxfactor?
These guys decide!

Mercury Music Group
This is one of the UK's biggest and most successful record labels. A part of the Universal Music Group, Mercury is home to world class artists as diverse as U2, Razorlight, The Killers, Rihanna, Kanye West, Jay Z, Elton John and Metallica. As well as these established acts, the label is a trailblazer for some of the most exciting new artists emerging from the UK, with recent successes and soon to be huge artists including Amy Macdonald, One Night Only, Joe Lean & The Jing Jang Jong and Aynzli Jones.
Clive Cawley
Habbo Name: Clivevertigo
Digital Marketing Manager
Mercury Music Group
I have to oversee all digital activity within Mercury Music Group from website conception to commercial opportunities and the over all marketing strategy for Digital within the label. I have been a Senior product Manager previously, looking after such artists as The Killers, Arcade Fire, Metallica, Ryan Adams, Paul McCartney and Bon Jovi and have brought my physical marketing experience across into the digital world to integrate the two areas together.
Vicky Harnetty
Habbo Name: vickyharnetty
Digital Campaign Manager
Mercury Music Group
I am responsible for managing the Digital Campaigns for all acts signed to Mercury, primarily those signed in the UK. This covers the freshly signed breaking acts and the more established artists who already have a catalogue of releases. My involvement includes generating and maintaining the artist database, all social networking activity and promotions using digital innovation and new services to put our acts/ artists on the map.
Jonny Simon
Habbo Name: Jonnyvertigo
A and R Manager
Mercury Music Group
My Job is twofold. To maintain and develop the artists I have signed to the label(making records, managing budgets) and also, all the while, continuing to search for new talent!
The keys to success in my job is a constant desire to keeping up with any new information on potential artists, which requires a huge amount of networking (agents, lawyers, publishers, promoters) and a genuine passion for contemporary music. To find a good bands again is through networking (agents etc see above) but over the last two years obviously myspace and other online engines have become very important to my everyday search. How to nurture an artist successfully there is no single answer, as it depends on the artist, but there is no substitute for live work and getting people in the studio to practice. With regards to recording, it's important to have the band working with the correct producer. It's not just about what matches them musically but who fits their personalities and songwriting tendencies. The group must work well together to make good music.
George Craig
Habbo Name: george-craig
One Night Only

George Craig is the singer and lead guitarist from One Night Only. George joined the band when he was just 12 and they all began 'making noise' in their hometown of Helmsley. In October 2006, Steve Lamacq began spinning the demo of 'You And Me', prompting George and the rest of the band to knuckle down, write some songs and start taking themselves seriously. In March 2007, the band became subject of a fierce A&R battle and George, still only 16, dropped out of school to pursue his dreams and went on to sign to Vertigo, home of Razorlight and The Killers. They've spent the past year touring with the likes of The Enemy and The Pigeon Detectives and are about to release their highly anticipated debut album 'Started A Fire' on the 4th February 2008. Check out the picture of George Craig below!
Daniel Cross
Habbo Name: DanRecordPlay
Founder
Record-play ltd
I run a music consultancy called Record-play (www.record-play.net). We find music for ads, films, TV programmes and games. We are always on the look out for new music to place in our clients' productions. Currently we work with about 100 international Indie labels and music publishers plus loads of unsigned artists. Our clients include Adidas, Sony, Heineken, Burberry and Microsoft. I'm hoping that you'll be producing some tracks that we can work with in the future, so good luck!
Organizing Your Traxfactor Record Label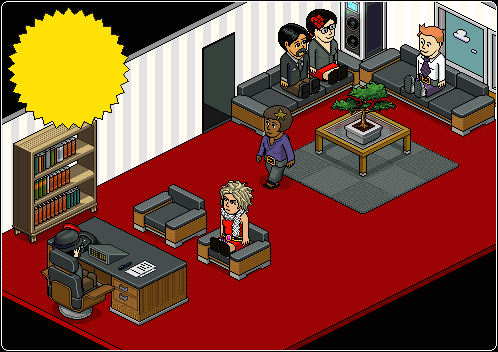 Get the latest news on the Traxfactor competition including details of organising your record label and promotional activities.
There have been loads of great Record Labels created already and there is still plenty of time for you to start on your very own. If you have already taken the plunge and are ready to take your Record Label to the next level then read on for our great tips on your Organisation and Promotional Activity.
Organisation - Organising your Record Label
To give yourself the best possible chance of progressing in the competition, you should hire yourself a reliable team of staff. These staff members can have any number of roles and responsibilities within your record label. We have outlined a few suggested roles below but you can create as many as you like/ need!
These guys go in search of the best Habbo Traxmachine artists. If they find someone they think is good then they will organise an interview with label management.
The guys at the top who make the big decisions regarding Traxmachine artists. They decide who they hire and who they fire!
Responsible for greeting any Traxmachine artists who have a meeting and also accepting CDs from any artists who have just popped in. They then pass the CDs on to Talent Scouts.
Every signed artist needs a look and this team is responsible for providing it and ensuring the artist is always looking good, especially when signing guest books!
Looking after the artist, making sure they turn up to organised events and generally being their best friend because they'll be with them every step of the way!
There are countless other roles you could make including events organisers, sound technicians and advertisers. It's completely up to you how you run and organise your Record Label, so go wild!
Promotional Activity - Promoting your Record Label
It is highly recommended that you tie your Record Label to a dedicated Group page. This allows all your staff to spread the word of your Record Label simply by wearing the dedicated Group badge! It also gives all your staff a central place to catch up as well as acting as a shop window for potential Traxmachine artists. The guest book and discussion forum act as great tools to help promote your label.
Organising parties, games, events and club nights at your Record Label is a great way to bring the crowds in. You never know who you might meet!
Traxfactor Artist Management
Elevate your Record Label to the top by signing and managing Trax artists! If you're good with your Traxmachine; sign to a label!
Choosing a Traxmachine artist for your record label will be one of the most important decisions you'll make because ultimately it will be their music that secures one of the six places in the grand final and it will be their talent that is tested in order to win the grand final.
Record Labels
You should begin your search for a Traxmachine artist now!
There are countless methods you can try to find yourself a great Traxmachine artist including:
use of scouts within your record label who go in search of the best Traxmachine talent.
collecting CDs from potential Traxmachine artists and then having a big listening party.
holding open auditions where artists can bring a copy of their song on a CD and you listen via a Jukebox.
There are loads of other things you can try and it's completely up to your record label how you go about signing an artist. Record labels can sign as many artists as they want but you will be limited to using just your best one as a candidate for the final.

Trax Artists
You should begin your search for a record label now!
There are countless methods you can try to find yourself a great record label and get yourself signed including:
browsing the Traxfactor Record Label Navigator floor.
browsing the Group pages of the record labels to find out more about them.
creating music and burning copies to CD via your Traxmachine and submitting them to various record labels.
There are loads of other things you can try and it's completely up to you how you go about getting signed by a record label. You should only sign to one record label at any one time.

Once You Have Paired Up
The fun only just begins once you have paired up your record label with a Trax artist. There are loads of things that you can now get on with including:
Trax Artist
Creating the Trax song that you think will win the Traxfactor.
Working with the label to ensure that you and your song are popular within Habbo.
Creating copies of the song on CDs which you can send to fans, clubs and popular rooms.
Signing guestbooks and discussion forums to get your name out there.
Record Labels
Planning events and parties which you can use to promote your artist and their song.
Supporting your artist and making sure they have everything they need.
Helping to distribute copies of the CD you think will win the Traxfactor.
Managing your artist and making sure they do everything they can to win!

Winning One Of The Six Places In The Final
Detailed information on how the competition will work in terms of submitting the Trax artist you think has the Traxfactor and how we choose the finalists will be supplied on Thursday 6th December.
Win A Place In The Traxfactor Final
Details of how to win a place in the Traxfactor final for your record label's Traxmachine artist and their song.
Record Labels will submit the single artist and the single song that they would like to have represent them. The submission process will take place via an email form which will appear in an article on Monday 10th December and Monday 17th December. The form is only available on these days. The form will be filled out by the record label owner and we will ask you for information which includes: name of your record label, owner of the record label, Habbo name of your Trax artist, name of their song and the name of the room where their song can be heard.
Meanwhile, a poll will be added to the homepage where we will be inviting the community as a whole to submit the name of their favourite Trax artist and their favourite song. The polls will also be available on Monday 10th December and Monday 17th December. The poll will only be available on these days.
Habbo will match the most popular community selected artists and songs with the details submitted by the individual record labels. Only artists and songs that record labels have submitted are eligible to win a place in the final and they will only win a place in the final if the community has voted for them.
On Tuesday 11th December we will reveal the names of three of the six finalists. The remaining three places will be revealed on Tuesday 18th December.
We will reveal details of how the grand final will take place in a later article so keep checking the Traxfactor Group page and our latest news!
Traxfactor Finalists One To Six Announced!
The community has voted and the record label owners have put forward the best Traxmachine talent in Habbo. Who is into the final?
Thanks to everyone who has been busy voting for a Trax artist and song to put into the Traxfactor grand final. Also a special thank you to all the record labels who have been submitting their Traxmachine artists.

We are now able to announce all six of the Habbos who will be taking part in the Traxfactor Grand Final and the record labels who signed and promoted them. Remember, the Traxfactor Grand Final will take place tomorrow, Wednesday 19th December from 4:00pm. Find out more >>

Finalist Number 1
Record label name: DJ Throne Records
Record label owners Habbo name: ste.77
Trax artists Habbo name: Ubiquious
Trax artists song name: Into the Sun
Name of the room where the song can be heard: DJ Throne Records
Owner of the room where the song can be heard: ste.77

Finalist Number 2
Record label name:Ginger Fingers Records [Independent Label]
Record label owners Habbo name: MADAME!!!
Trax artists Habbo name: MADAME!!!
Trax artists song name: "Getting Cold In Here"
Name of the room where the song can be heard: Ginger Fingers Records
Owner of the room where the song can be heard: MADAME!!!

Finalist Number 3
Record label name: Emgo
Record label owners Habbo name: pairz
Trax artists Habbo name: 123ld
Trax artists song name: The Xmas Bug
Name of the room where the song can be heard: Habbo's Official College
Owner of the room where the song can be heard: 123ld

Finalist Number 4
Record label name: Chocolate Records
Record label owners Habbo name: :.lil.romeo.
Trax artists Habbo name: :.lil.romeo.
Trax artists song name: Love Posion
Name of the room where the song can be heard: Chocolate Records
Owner of the room where the song can be heard: :.lil.romeo.

Finalist Number 5
Record label name: DC Records
Record label owners Habbo name: Clairenordy
Trax artists Habbo name: Coup
Trax artists song name: Movin' Down
Name of the room where the song can be heard: DC Records Reception
Owner of the room where the song can be heard: Clairenordy

Finalist Number 6
Record label Name: Quatopian Records
Record label owners Habbo name: Quatopygia
Trax artists Habbo name: Quatopygia
Trax artists song name: Salmon Dance
Name of the room where the song can be heard: Quatopian Records
Owner of the room where the song can be heard: Quatopygia
Traxfactor Grand Final
The 2007 Traxfactor Champion has been announced. Find out who won!
The Traxfactor Grand Final involved all six of our Traxfactor finalists and they competed against each other to create a top quality Trax song using four never before released Traxpacks!
The six finalists were visited by all 5 judges between 4:00pm and 5:00pm on Wednesday 19th December. The judges each awarded a score out of 10 based on their different areas of expertise. For example: Some judges give a score for the quality of the Trax song while others focused on the way the record label promoted the artist and organised itself.
The Results
1st place went to :.lil.Romeo. and all the staff at Chocolate Records. The track called The Legend was hugely popular amongst our judges and also the promotional activity and organisation of the record label impressed them. The Traxfactor winner has won a selection of signed CDs, an iPod Nano, Habbo goodies and professional music editing software.
2nd place went to Quatopygia and all the staff at Quatopian Records.
3rd place went to 123ld and all the staff involved in the music division of Habbo's Official College.
4th place went to MADAME!!! and all the staff at Ginger Fingers records.
5th place went to Coup and all the staff at DC Records.
6th place went to Ubiquious and all the staff at DJ Throne Records.
Congratulations to all six of our finalists. A selection of Habbo prizes will be on their way to you on Friday 21st December. Find out how they reached the final and find out who the judges that crowned :.lil.Romeo. the overall winner are, by using the links below.