Hoot Quest
Jump to navigation
Jump to search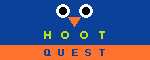 The Hoot Quest was a promotion in February 2003 on Habbo.com for a Novel of the same name.
The quest was on the 7th of February. Before the quest was live players could visit the promotion site to read a part of the novel to find clues that would help the players with the Hoot Quest, play a game or download a screensaver. It is likely that the Hoot Poster was given out as price for the quest, altho this is yet to be confirmed.
The book won a Newbery Honor award in the same year.
Furniture
| Name | Image |
| --- | --- |
| Hoot Poster | |
| Jack-o-Lantern (After the change in 2007) | |
Trivia
The Hoot Poster is based on the cover of the book.
The Hoot Poster is later in 2007 changed into a Jack-o-Lantern (poster).