Habbox Wiki:Tasks
Jump to navigation
Jump to search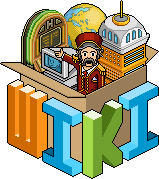 This page lists various tasks that need doing on HabboxWiki. If you want to get involved, but don't know where to start, then look down this list and see if anything takes your fancy.
On-going tasks
These are the tasks that will never be 'complete', such as on-going maintenance work or clean-up, or which are part of on-going projects that will take a significant period of time to complete.
For Wiki Staff
The following tasks can only be carried out by Wiki Staff.
Approving updated pages
Pages are frequently edited by users, If they are vandalised then the changes should be reverted. Wiki staff need to be regularly checking Recent Changes list and make sure all the edits are correct.
Creating Wanted Navigation Boxes
Navigation Boxes (NavBoxes) are very important to Habbox Wiki Navigation, if there is a need for a navigation box it is a priority to make one. Further additional links to Navigation Boxes should be added and requests for these should be located on Navigation Boxes.
For any user
The following tasks can be carried out by all users.
Fix double redirects
Double redirects are when one page redirects to another which is itself a redirect. This should be fixed by modifying the original page to redirect to the final destination.
Add categories to any uncategorised pages, images and categories
You will need to familiarise yourself with our categorisation scheme first. Note that the special category, Category:Top level should not be categorised.
Recent changes patrol
Check through the list of recent changes (particularly new pages and edits from anonymous users) to catch vandalism/spam. If existing pages are vandalised then the changes should be reverted. If new junk pages are created, they should be marked for speedy deletion.
Create missing category pages
Check the list of missing categories, and check whether the articles in the category are in the right place. If not, update the category links in the article(s) in question. If they are, then add a category page, ensuring that you categorise it so it shows up in the right place in the tree.
Add Navigation Boxes to Pages
In order to improve wiki navigation, most pages should have a navigation box so that users can find related topics with ease you can find a full list of navigation boxes here. It is also helpful to point out groups of pages which need navigation boxes or a specific navigation box to Wiki Staff, you can do this from the Navigation Box Request Page. If a Navigation Box requires more links, there are links suitable for a Navigation Box or two Navigation Boxes should be merged then a request should be made on the Navigation Box's talk page. More information on the Wiki's navigation box implementation can be found at Navigation Boxes.
Adding Rares pages
The pages for furniture and in particular rares are currently a priority, additional effort to get this up to a reasonable standard should be made. You can find a link to various rares on the Rares page, you should take particular care as certain pages for sets of Rares feature links to super rares which do not have pages yet. If you feel that the Rare's NavBox is missing important information please post this information on the Rare's NavBox talk page.