Crafting
 Hang on, we're still working on this one!

This page is currently under construction, so please don't panic while we write and update the content belonging to this part of the Wiki. 
Please don't accept this information as fully accurate until it has been completed. Thanks!
You can help by contributing the information you have on this Habbo topic, but please ensure the content is relevant and accurate. When you feel this page contains sufficient content, please remove the construction banner.

The Crafting system is the process of creating new items by using different combinations of furniture in the crafting table. The system was first released as a part of the 2015 Habboween campaign and has been a part of different campaigns since.
As described, the crafting system requires the users to present two pieces of furniture to be able to create new items. Items to be created greatly depends on what pieces of furniture were chosen to be the "ingredients". Along with this, a large number of recipes were provided, each yielding different kinds of resulting items.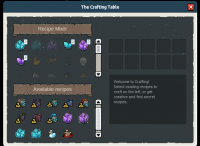 Clicking the Crafting Table will trigger the crafting system. A menu will pop out, which will show you a list of ingredients, a list of your public and secret recipes, as well as the side where you can take your furniture for crafting. Ingredients are shown on the menu, through which you can see which ones are available, and which ones are greyed out, meaning they are not present in your inventory for crafting. After placing the correct furniture as ingredients, you can, therefore, start crafting the item.
Crafting Systems
Habbocalypse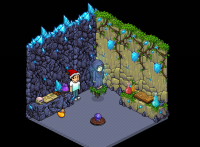 The first time Crafting was introduced was during the Habbocalypse campaign in October 2015.
Along with this, each user was given a pre-made room which consists of rented furniture under the Mystics furniture line. The said room contains the Habbocalypse Crafting Altar, which is the centre of the crafting system.
Stranded Jungle
Farm
Victorian Christmas
Easter Garden
Tokyo
Infected Laboratory