Niko
Jump to navigation
Jump to search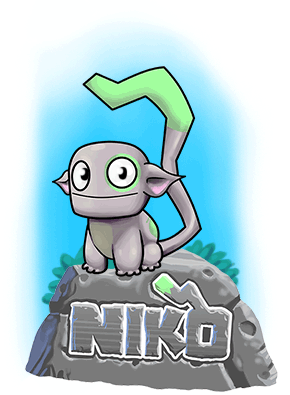 Niko is a fast paced platform game created by Sulake and released on the 19th of January 2012. Players are able to download the free version of Niko in the iTunes App store. By playing Niko, players are able to put their brain to the test, trying to figure out brain-teasing levels to rescue their friends who have been captured, and defeating bosses on the last level. By doing so, players are able to score unique prizes in Habbo, including unique badges and extremely rare furni.
Downloading Niko
In the iTunes store, players are able to download Niko for free and play the first 6 levels of the game. After doing so, they would receive one voucher code to redeem on Habbo. After the user has played all 6 levels, they are encouraged to buy the full game for $1.99. If they do purchase the full game, they are able to unlock all the unique badges and prizes and find out what the secret mystery furni is at the end of the game. The voucher can be redeemed on Habbo Credits, by visiting the credit page and clicking 'Redeem'. An alternative way would be to go to the front page of the shop on the Habbo Client and under the picture on the front page there will be a little redeem box there that players can use as well.
Prizes
While a user plays Niko they are able to unlock some awesome prizes including rare badges and exclusive furni.
| | | | |
| --- | --- | --- | --- |
| Silver Niko Trophy | | Awarded for unlocking the full Niko mobile game! | N/A |
| Golden Niko Trophy | | Awarded for completing all the levels in the Niko mobile game! | N/A |
| rare_fountain_niko name | | rare_fountain_niko desc | Would have been given out as a reward if Niko reached the top of the iTunes charts - but it failed to do so. |
Guestroom