Housekeeping
Jump to navigation
Jump to search
 Hang on, we're still working on this one!

This page is currently under construction, so please don't panic while we write and update the content belonging to this part of the Wiki. 
Please don't accept this information as fully accurate until it has been completed. Thanks!
You can help by contributing the information you have on this Habbo topic, but please ensure the content is relevant and accurate. When you feel this page contains sufficient content, please remove the construction banner
Housekeeping
Housekeeping is a control panel for staff members and moderators to use to work with things in Habbo outside of Habbo. On Housekeeping, staff members can access a database of players, read chatlogs and Call For Help reports, and moderate from a remote environment. To enter you need to be on a certain IP address. Only a few people have managed to hack into it.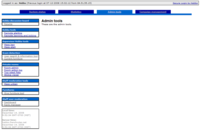 Overview
There are many tools to find in Housekeeping as, chatlog, ban players, find information about a player including registration date, IP address, and ban record.
registration date, IP address, and ban record.
Staff members can also give users coins using housekeeping but this feature is rarely used as you are meant to purchase credits. This feature is only used if a user wins in an in-game event.
Staff members can also create news articles and campaigns from Housekeeping.