Smilla
Jump to navigation
Jump to search

Smilla was a habbo character introduced in November 2007. She was the first Christmas Contender to host competitions, after she left in December Santa.3000 took over. At the end of december habbos could vote for their favorite christmas contender, Smilla won this battle
Introduction
"Pablan*, Habbos!
My name is Smilla and this is Nanuq, my Husky Pet. I'm an Inuit wandering Shaman.
My job as a shaman is to help the members of the tribe stay healthy, defend them against negative forces and make them… well, do the right things. I employ snow and ice spirits as my advisors and spiritual guides. Using these guides, I can gain the power to create ice at will and bring everywhere the frozen breath of my land, a power which I'm sharing with all the people I visit!
Since my coming of age I have been prey to the wanderlust. For quite some time I've gone from tribe to tribe, from land to land, trying to help wherever I could… and dating some local young warrior whenever I could take a break from my hard shaman's work. "Wandering" is my thing and my weakness in all I do, after all; but a girl's gotta do what a girl's gotta do, right?
Yeah, you got it right. That would be HELPING YOU!
Over the next four weeks, we'll search for a *NEW* Habbo Canada Xmas Boss! It's going to be a pretty stiff competition, and I've only heard RUMOURS about some of the contenders I'll be up against... I won't share any details, as I'm sure you'll meet them soon. (Remember to stand by me, though, I can give you the BEST XMAS EVAR!)
And when the time to vote the new Boss, do the right thing.
Quyaruq!
Competition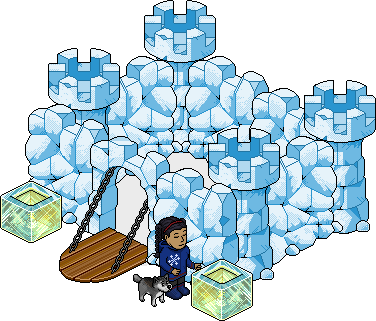 Smilla's POLAR ROOM DESIGN Comp!
Hey there, Habbos...
By now I'm sure you've heard all about the QUEST to FIND OUR NEW SANTA, and met our first candidate... Smilla!
When Smilla's story first appeared, there were rumours floating around the Habbo tundra of a second act, so to speak... something she was going to try and use to gain the trust and support of Habbos across the nation...
Well, today we found out what the secret up her puffy and fur-lined sleeve is!
Smilla brought an AWESOME set of Snow Castle Furni with her when she arrived at our Hotel, and now it's available for YOU in the Catalogue! We want you to use this frostacular new stuff to make an Ice Castle/Igloo/Iceberg-themed room of your own, this weekend...
HOW TO SHOW OFF your POLAR ROOM DESIGN:
1. Build a Polar room showing off your winter-wonderland skillz, using the new Snow Castle Furni - you can find it in the Hotel's Catalogue under SMILLA!
2. Add your room to the [COMP] Polar Room Design guest floor... you can find it inside the *XMAS is HERE!* section of the Navigator!
3. Wait for the awesomeness to begin? Once the Guest Floor has filled up on Wednesday December 5th, Habbo Staff will escort Smilla through the rooms and she'll pick her FAVOURITE!
The Winning Room will receive 50 Habbo Credits, 1 Month of Habbo Club, and a whole bunch of Xmas Stickers for their page!
Habbo Staff have also taken this opportunity to add a whole bunch of Xmas Furni to the Catalogue on top of what Smilla brought us... check it out along with TONNES of awesome Xmas Stickers for your Habbo Home... you can check out and buy those by clicking "Web Store" when looking at your page!