Habbo Hotel Card
 Hang on, we're still working on this one!

This page is currently under construction, so please don't panic while we write and update the content belonging to this part of the Wiki. 
Please don't accept this information as fully accurate until it has been completed. Thanks!
You can help by contributing the information you have on this Habbo topic, but please ensure the content is relevant and accurate. When you feel this page contains sufficient content, please remove the construction banner.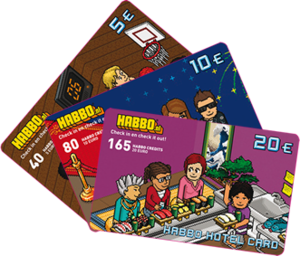 The Habbo Hotel Card was a prepaid payment card with which you could buy Habbo Credits only It was similar to the Wallie-Card but these were for Habbo only, Wallie-Cards could be used to buy anything on the internet.
The Habbo Hotel Cards were introduced in 2010 on Habbo.nl and could be bought in the Primera, Videoland and MovieMax shop.
Type of Cards