Coolpolitics
Jump to navigation
Jump to search
Cool Politics
Opening Date
October 2010
Closing Date
unknown

Coolpolitics is a foundation with the purpose of involving the youth into politics, in 2010 they opened a virtual House of Representatives in Habbo.nl. Habbo's could debate in a special therefore created public room.
Habbos even had to change to debat with the real dutch politicians Frits Bolkestein and Frans Timmermans. 75 selected habbos could even debate against eachother. This debate was an hour long and not everyone could participate.
Coolpolitics and Habbo goes UN!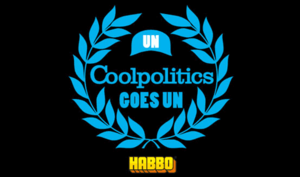 On the Coolpolitics group, habbo's could discuss with people of the UN, development experts and politicians about what they knew about the United Nations to get to know what the UN does in the world. If people had a Question or tip they could fill in a form on the habbo website. 9 selected people could win one of the 9 UN badges.
UN Flags & Trophy
Habbo's who knew alot about the United Nations could fill out a quiz in the Coolpolitics Theatredome, Habbo's who answered all those questions correctly could win 1 of the 1000 exclusive UN Flags.
Not only via the quiz but also habbo's who joined the group had a chance to win one of the 1000 Un Flags. Users who joined the group could win, besides the flag, also a Coolpolitics Trophy


Badges
| Name | Description | Image |
| --- | --- | --- |
| UN Badge | Jij bent VIP tijdens het UN Debat | |
| Habbo Parlements Badge | VIP tijdens een event in het Habbo Parlement | |
| Coolpolitics Parlement Badge | In het Coolpolitics Parlement! | |
| Coolpolitics Pink | Voor het invullen van de Coolpolitics poll | |
| Coolpolitics Badge 2 | Voor het invullen van de Coolpolitics poll | |
| Coolpolitics 2014 | Jij mocht jouw vraag aan onze VIP stellen! | |
| Coolpolitics Badge | Voor het correct beantwoorden van de CP quest vragen. | |
Trivia
The habbos u see in the public room are fake
The UN Badge was the 100th badge created on Habbo.nl