User:ChlorineDioxide
Jump to navigation
Jump to search
ChlorineDioxide
Joined Habbo
13-May-2019
Hotel
Habbo.com
HxF username
ChlorineDioxide
Habbox Staff
Current role(s)
Content Designer (Oct 2019-)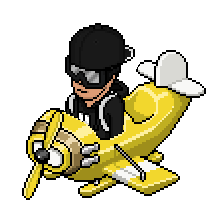 ChlorineDioxide is a long time habbo player, he original joined habbo in 2006. But his new and current account ChlorineDioxide joined May 2019. In October 2019 he became a Content Designer for habbox. You can find all the pages he created or contributed to on this page.
He has a lot of knowledge about the past of Habbo. From past events to furniture ranges, ask him and he knows it.
"I love to share my knowledge to everyone, since i'm a big Habbo fan and a long time habbo player, i can say that i do know alot about the game :-)"
Look
ChlorineDioxide has a very notable look, the Backwards cap, ski glasses, ripped jeans, backback, and a hoodie with a H logo on his chest. The colors can vary, but most of the time it's black and white.
Pages he created | Contributed to so far
Rooms
Awards and Nominations
| Date | Award | Result |
| --- | --- | --- |
| Oct 2019 | Staff Of The Month | Won |
| Nov 2019 | Staff Of The Month | Nominated |
| Feb 2020 | Staff Of The Month | Nominated |
Habbox Awards 2019
| | | |
| --- | --- | --- |
| Jan 2020 | Content Designer of the Year | Nominated |
| Jan 2020 | Best Staff Newcomer | Nominated |
| Jan 2020 | Most Dedicated | Nominated |
| Jan 2020 | Best Newcomer | Nominated |