User:ChlorineDioxide
Jump to navigation
Jump to search
ChlorineDioxide
Joined Habbo
13-May-2019
Hotel
Habbo.com
HxF username
ChlorineDioxide
Also known as
Sebastian
Habbox Staff
Current role(s)
Content Designer (Oct 2019-)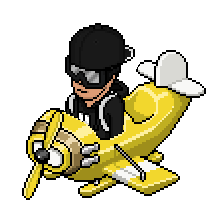 ChlorineDioxide Also known as Sebastian is a long time habbo player, he original joined habbo in 2006 on Habbo.nl. Later that year he joined Habbo.com and has been playing there ever since. In 2013 he left habbo.com for a while to learn some spanish on the Spanish Hotel, but has returned since 2019. After playing for a while on his old account he wanted to have a new name, because he wanted to start a new era. and has been named ChlorineDioxide ever since.
He works as a Content Designer for habbox since october 2019
"I love to share my knowledge to everyone, since i'm a big Habbo fan and a long time habbo player, i can say that i do know alot about the game :-)"
Pages he created | Contributed to so far
Rooms
ChlorineDioxide's Office, he especially made when he became a content designer for Habbox
Museum
Since January owns ChlorineDioxide a museum consisting of many rooms of original furniture lines. All from 2000 till 2010 also known as The Oldskool Museum.
Collections
The following collections can be seen:
Awards and Nominations
| Date | Award | Result |
| --- | --- | --- |
| Oct 2019 | Staff Of The Month | Won |
| Nov 2019 | Staff Of The Month | Nominated |
| Feb 2020 | Staff Of The Month | Nominated |
Habbox Awards 2019
| | | |
| --- | --- | --- |
| Jan 2020 | Content Designer of the Year | Nominated |
| Jan 2020 | Best Staff Newcomer | Nominated |
| Jan 2020 | Most Dedicated | Nominated |
| Jan 2020 | Best Newcomer | Nominated |