Difference between revisions of "User:ChlorineDioxide"
Jump to navigation
Jump to search
m

Line 148:
Line 148:
 

|-

 

|-

 

| [[SuperPOP]] || Created

 

| [[SuperPOP]] || Created

 
+
 
+
 

|-

 

|-

 

| [[Tampax]] || Created

 

| [[Tampax]] || Created
---
Revision as of 22:32, 10 November 2019
ChlorineDioxide
Joined Habbo
13-May-2019
Hotel
Habbo.com
HxF username
ChlorineDioxide
Also known as
Sebastian
Habbox Staff
Current role(s)
Content Designer (Oct 2019-)
ChlorineDioxide Also known as Sebastian is a long time habbo player, he original joined habbo in 2006 on Habbo.nl later that year he joined Habbo.com and has been playing there ever since. In 2013 he left habbo.com for a while to learn some spanish on the Spanish Hotel, but has returned since 2019. After playing for a while on his old account he wanted to have a new name, because he wanted to start a new era. and has been named ChlorineDioxide ever since.
He works as a Content Designer for habbox since october 2019
"I love to share my knowledge with other people, and research everything about habbo. The Habbox Wiki is the perfect place for me! I love to create pages and contribute to pages"
Pages he created | Contributed to so far
Green and Red
When you explore ChlorineDioxide's rooms you'll notice that his 2 main rooms (ChloDio's Domain and ChlorineDioxide's Office) are Green and red themed with HC furniture. This is because the Model for the chemical Chlorine Dioxide is Green and Red. Also his lucky colors are Green, Red and Purple.
Notable Look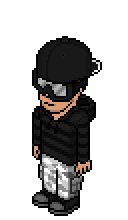 This was his first look
Awards and Nominations
| Date | Award | Result |
| --- | --- | --- |
| Oct 2019 | Staff Of The Month | Won |