Difference between revisions of "Comedy Poster"
Jump to navigation
Jump to search
Line 38:
Line 38:
 

| <span style="color: green;">''' Active'''</span>

 

| <span style="color: green;">''' Active'''</span>

 

| 21/07/16

 

| 21/07/16

 
+
 
+
 
+
 
+
 
+
 
+
 

|-

 

|-

 

! scope="row" | Total

 

! scope="row" | Total
---
Revision as of 18:55, 28 January 2019
Comedy Poster
Motto: The Noble and Silver Show

Release date
2001
Category
Super Rare

The Comedy Poster is a Super Rare on Habbo. This poster is a reference to the Noble and Silver show, held at the Edinburgh Festival 2001. Performances in satirical and post-modern comedy by Kim Noble and Stuart Silver, it was a popular and well reviewed show. The poster was released to coincide with the Noble and Silver campaign that was held in the original Theatredrome, which subsequently featured an added Applause banner with moving curtains on stage. Not much is known about the campaign or why the poster was given out and appeared in the hotel.[1]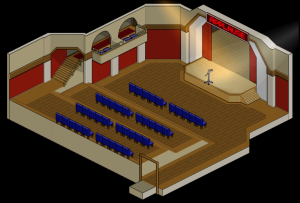 The name and description was 'Comedy Poster' and 'The Noble and Silver Show' respectively. [2]
Release
Its exact origins are unknown, although it is believed to have began circulating on Habbo.co.uk in 2001. Staff attempted to remove this item some time after its release, but instead of removing it completely, they only deleted the image and moved the Comedy Poster from poster ID 1 to ID 1000. They replaced poster_1_name with the Ancestress poster.
After the poster was deleted, it wasn't able to be placed in a room and was left in users Hand as a no icon or PH block. If the poster was placed in a room before it was removed, it was viewable on :Furni as a no icon poster. These posters have all since been deleted when the furniture ID was moved.
Value & Status
There isn't a notable value for this inactive item at this given time.
Examples
Room - (Clicking link will open room in the client)
Number
Owner
Status
Updated
Dusty Pixel Collection - Room 1
1
Rouelles
Active
21/07/16
100%
1
PatrickPacard
Inactive
28/01/19
Total
0

Note: A user is considered inactive if they have not logged in for over a week.
See Also
References