Difference between revisions of "Calippo"
Jump to navigation
Jump to search
(Added Branded items category.)

Line 100:
Line 100:
 
 
 

[[Category:Habbo.es]]

 

[[Category:Habbo.es]]

 
+
---
Revision as of 15:35, 8 November 2019
 Hang on, we're still working on this one!

This page is currently under construction, so please don't panic while we write and update the content belonging to this part of the Wiki. 
Please don't accept this information as fully accurate until it has been completed. Thanks!
You can help by contributing the information you have on this Habbo topic, but please ensure the content is relevant and accurate. When you feel this page contains sufficient content, please remove the construction banner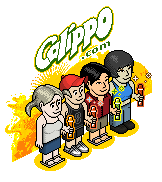 Calippo Was the name of a promotional campaign on Habbo.es in 2008 and 2009 of the Frigo brand.
Furniture
| Estimated Furniture Name (.COM) | Furniture Image(s) |
| --- | --- |
| Calippo Ice Cream Machine | |
| Calippo Slurpee Machine (Green) | |
| Calippo Slurpee Machine (Dark Red) | |
| Calippo Slurpee Machine (Pink) | |
| Calippo Slurpee Machine (Blue) | |
| Calippo Teleporters | |
| Calippo Parasol | |
| Calippo Lava Lamp | |
| Calippo Fan | |
| Calippo Pool | |
| Calippo Inflatable Chair | |
Competitions
Badges
| Name | Description | Image |
| --- | --- | --- |
| Calippo Fresa | ¡Lo más fresco de Habbo! | |
| Calippo Verde | ¡Lo más fresco de Habbo! | |
| Calippo Naranja-Piña | ¡Lo más fresco de Habbo! | |
| Calippo Cola | ¡Lo más fresco de Habbo! | |
| Tener el control | Calippo Lima | |
| | | |
| Pasar Inadvertido | Calippo Cola | |
| | | |
Public Room