Blue Submarine
Jump to navigation
Jump to search
The Blue Submarine is a Super Rare that was available indirectly via the Catalogue from 28th March - 5th April 2013 on all hotels as part of the Easter 2013 campaign. Users could not purchase the Blue Submarine, but instead could purchase a Crackable Egg and potentially win the rare, or the Easter Head Statue, by either clicking the Egg 20,000 times and/or being the one to crack it open.
The Blue Submarine is a re-coloured version of the Ultramarine, but has a much higher value. The chance of acquiring one from an Egg was so slim, thus leading to very few existing in each hotel. For Habbo.com (International) the price has stood near the 5000 Credits mark. The motto of this item is "We all live in a...".
In July 2018 it was sold in the catalogue on Habbo.com.tr for the price of 25

and 25

as a new Classical Rare
Releases
The Blue Submarine has been released on all hotels:
Globally - Available via the Crackable Eggs from 28th March to 5th April 2013.
Habbo.com.tr - Mavi Denizaltí Sold in the catalogue in July 2018
Badge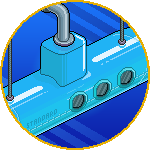 Every user who purchased the Mavi Denizaltí in 2018 on Habbo.com.tr also recieved a badge
According to habbowidgets 48 Habbos have this badge
Known Owners
Here are confirmed owners and known examples of the Blue Submarine on Habbo.com.
Owner
Quantity
Updated
Room - (Clicking link will open room in the client)
dmr321
2
30-Oct-2018
Shonly
1
21-Jun-2019
boper52
1
18-Mar-2020
Fibonacci
1
19-Apr-2020
MARUHA123
1
07-Oct-2020
https://www.habbo.com/hotel?room=65250723
=!Brandon!=
1
20-Nov-2020
Total
6