Portal:Games
Welcome to the

Games

Portal

15

Games articles to date.
The Games Portal
Battle Banzai
is an improved version of Habbo's old game,
Battle Ball
. Battle Banzai was released on 21 September 2010 along with a range of furniture to decorate rooms.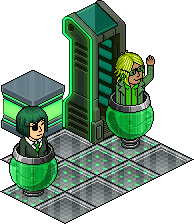 Battle Banzai still uses the same concept of
Battle Ball
but with more features. There are also
Achievements
to be earned from playing Battle Banzai such as achievements for scoring a certain amount of tiles.
Gameplay
To play Battle Banzai, the host requires four pieces of furniture; a timer, scoreboards, tiles and changing gates. The players must enter the Battle Banzai arena through a changing gate to add a space hopper to their user, the color of the gate determines the color of the hopper a Habbo is on. There are four colored teams available for Battle Banzai which are; blue, purple, yellow and green. The actual playing field/arena depends on the hosts choice as they set out the playing field/arena themselves from the furniture purchased.
The game aims to lock the most tiles on the playing field. When the timer is up, or all of the tiles have been locked, the winning teams' locked tiles flash on and off and the winners from the team wave automatically. Then, the game resets, and all the tiles turn off.
To make things fair, there is a limit of five players per team. If a sixth player tries to get through the team's changing gate, they will not have a space hopper added to their avatar as there are already five players on the team. As soon as one person from that team leaves, another person will be able to join.