Portal:Achievements
The Achievements Portal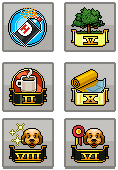 Achievements are very similar to Badges. They are badges which can be worn around the hotel to show off various tasks a player has completed. The Achievements system was introduced in September 2008 and was brought in as a scheme to allow more Habbos access to badges. Originally, badges would only be awarded during competitions of campaigns to a select few users, while the introduction achievements opened badges up to the whole community. Achievements also have multiple levels, allowing users to build up to the top level slowly.
Achievements now cover many different areas of the hotel with a total of 9 different categories, containing achievements ranging from respecting Habbos, receiving scratches for your pet and even send presents to friends. There are some achievements which will require users to spend credits to achieve higher levels although the vast majority do not require credits and only time put into the achievement. Future updates introduced Achievement Scores to the hotel which saw points added for each achievement earned which encouraged many users to put more effort into earning achievements to have a high score to show off. In Habbo's past, it was possible to link your account to a Facebook profile and users were able to share achievements on Facebook. Friends of the user were then able to earn both themselves and the original user more points by clicking the link shared.
In the past there has been much discussion over the achievement score and whether it is a good or bad idea. The causes for this is the fact that users with a low score are more likely to be singled out by users who have a higher score, often referring to them as 'noobs.' Another downfall of the system is users creating rooms to boost achievement scores, allowing for an unfair disadvantage to some users.

Achievements Trivia
The badge whereby players are required to change their room's wallpaper could be achieved by buying the Pixel Wallpaper previously available.
The Firework achievement is no longer available with the removal of Pixels.
Some badges offer no Achievement Score.
Achievements are usually set in levels of 5, 10 or more recently 20!
Achievements can be obtained through completing Quests, Competitions and more.
The Landscape Achievement will cost 900c at a minimum.
Players can have Achievement Scores at approximately 60,000+, this is mainly done via boosting it through Facebook.
The only Habbo game not to have Achievements is Puzzle Box.
For Achievements which require furniture players can give rights to a friend in a group room and gain the badge that way, this is usually done with patches and Room Builder/Furni Collector.
Some Achievements have only a few levels, but images for higher levels have been uploaded!
The biggest section for Achievements is the Games section with 445.
Not all Achievements shown in the tab be earned at present, some are left over from old campaigns and competitions.