House of Bones
Jump to navigation
Jump to search
 Hang on, we're still working on this one!

This page is currently under construction, so please don't panic while we write and update the content belonging to this part of the Wiki. 
Please don't accept this information as fully accurate until it has been completed. Thanks!
You can help by contributing the information you have on this Habbo topic, but please ensure the content is relevant and accurate. When you feel this page contains sufficient content, please remove the construction banner
House of Bones

Opened
2015 - Present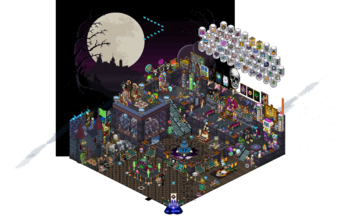 House of Bones is both a group and room in Habbo.com_(International) owned by the user Ligep and shows every 'skull furniture' that exist on Habbo.
He started his collection back in 2015 with his first skull furniture ever; the Crystal Skull, a credit furniture released in October 2014, and collected his way up to the amount of furniture he currently has. One of the unique items in his collection is his number 36 The Wraith. An Limited Edition Rare that is hard to obtain. Another unique piece that can be found in this room is a big picture of a skull made out of 60 (edited) photo's.
Not only skull furniture, but also badges that contain a skull can be found here.
Link